Kentucky Senate Passes Dual-Agency Legislation
by Tom LaMarra
Date Posted: 3/15/2006 4:01:06 PM
Last Updated: 3/16/2006 5:33:46 PM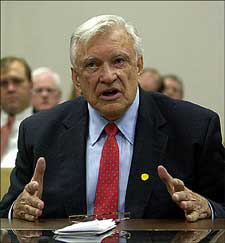 Owner Jess Jackson lobbied for passage of dual agency bill passed by Kentucky Senate.
Photo: Anne M. Eberhardt

Legislation that would protect buyers and sellers in equine transactions unanimously passed the Kentucky Senate March 15 and now heads to the House of Representatives for concurrence. The House previously approved a different version of the bill.The bill targets dual agency in the sale of horses of any breed. Jess Jackson, a Thoroughbred owner/breeder and wine magnate who filed a lawsuit alleging fraud in equine transactions, lobbied for the Kentucky legislation. He had predicted that once changes were made on the Senate floor, the measure would be "in harmony with the entire Thoroughbred industry."Republican Sen. Damon Thayer, the point person for the bill in the Senate, withdrew three floor amendments March 15. One deleted a subsection that awarded treble damages of three times the amount received by a dual agent; one deleted an exemption for the sale of show horses for $10,000 or less; and one specified the financial records and documents to be disclosed.The exemption for show horses was put back in the bill to give it a better chance of passing the House, where that amendment originated.In turn, Thayer offered a floor amendment that would set treble damages at the difference between the price paid for a horse and the value of the horse at the time of sale. There would be no liability unless there is knowledge of dual agency. Thayer said the language came about after discussions between Jackson and the Consignors and Commercial Breeders Association.Under the legislation, any sale, purchase, or transfer of a horse used for racing, breeding, and showing purposes must be accompanied by a written bill of sale or acknowledgment of purchase, complete with the purchase price. It must be signed by the buyer and seller or their authorized agent.The bill says it's unlawful for anyone to act as agent for both buyer and purchaser in a transaction without the prior knowledge and written consent of the buyer and seller.On the Senate floor, Thayer noted there has been discussion in the General Assembly about the Ten Commandments. "Thou shall not steal is the basic tenet behind this bill," he said. "This bill will improve the world's perception of the Kentucky horse racing and breeding industry."Should the House concur with the Senate version, the bill would go to Gov. Ernie Fletcher for his signature. California, where Jackson filed his lawsuit, already has similar legislation on the books.



Copyright © 2015 The Blood-Horse, Inc. All Rights Reserved.