New Defendants, Fraud Charges Added to Jackson Suit Against Ex-Advisers
by Ray Paulick
Date Posted: 3/14/2006 11:10:59 AM
Last Updated: 3/17/2006 6:53:54 AM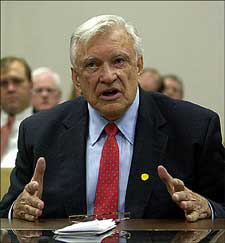 Owner Jess Jackson, who has filed suit against his former advisers.
Photo: Anne M. Eberhardt

Attorneys for Jess Jackson have named three additional defendants and new fraud charges involving the wine magnate's bloodstock acquisitions and purchase of the former Buckram Oak Farm in Kentucky in a motion for leave to file an amended complaint to the Superior Court of California in San Diego. The motion was filed March 9.Jackson, and his entities Four Star Stables and Stonestreet Thoroughbred Holdings, originally filed suit Sept. 22 against Emmanuel de Seroux and his companies Narvick International and Irish-based Continental Bloodstock; trainer Bruce Headley; and bloodstock agent Brad Martin (Owner Jackson Files Suit Against Ex-Advisers). The suit alleged the three men conspired to enrich themselves through kickbacks and undisclosed commissions while spending tens of millions of dollars on private and public auction purchases of Thoroughbreds made on Jackson's behalf. The amended complaint alleges California-based agent Fernando Diaz-Valdez and French agent Frederic Sauque participated in the scheme to defraud Jackson in private purchases.The amended complaint also alleges that Sauque and Buckram Oak Holdings, a company operated by Mahmoud Fustok until his death in February, conspired with de Seroux, Headley, and Martin to defraud Jackson for between $1.5 and $2.5 million in his purchase of Buckram Oak Farm in Central Kentucky. Jackson bought the property in February 2005 for $17.5 million, which the complaint said was higher than a previous listed price of $16 million or the $15 million Fustok allegedly told an associate he would accept for the 469-acre farm.Three months after Jackson purchased Buckram Oak, Fustok and Sauque allegedly facilitated the wire transfer of $500,000 to a Narvick International bank account in Scotland, from which $100,054 was disbursed to Headley's wife, Aase; $100,000 to Fustok's farm manager, Mikhail Albina; and $75,000 to an entity organized by Albina's son, Hansley. The purchase agreement for Buckram Oak included a provision stating the seller will not pay to "any employee, agent, representative or other affiliate of purchaser" a commission or fee for "assisting in procuring" the transaction.Jackson also purchased Central Kentucky farm property formerly owned by Frank Stronach's Adena Springs Farm, and the complaint alleges de Seroux, Headley, and Martin, through an intermediary, "attempted to extort a $500,000 kickback" from that July 2005 transaction.The complaint alleges Dr. Arnold Pessin, a Central Kentucky veterinarian, approached real estate agent Joe Riddell after Jackson originally was shown the farm and told Riddell that unless Jackson's three advisers were paid a referral fee, Jackson "would never set foot" on the farm again. Later, when the deal closed, Pessin allegedly approached another agent involved in the transaction and "demanded a portion of Riddell's commission, which Riddell did not pay."Pessin was named as a recipient of a portion of the $150,000 the complaint said was "stolen" by Jackson's advisers in his purchase of Maggy Hawk, the dam of 2005 dual classic winner Afleet Alex.Pessin told The Blood-Horse he received a $20,000 commission because he "bought the mare for Emmanuel personally. I arranged the whole deal." He denied the allegations concerning the farm purchase. "That's a total lie," he said. "I never spoke to Joe Riddell."It was the Maggy Hawk deal, in which breeder John Silvertand received only $600,000 of the $750,000 Jackson paid, that led Jackson to investigate all previous bloodstock transactions involving de Seroux, Headley, and Martin in May 2005.Around that same time, Jackson had become dissatisfied with the training performance of Headley, who was a 10% partner on most of the publicly purchased racing prospects. Only three of the 18 horses purchased by Jackson had started by May of their 3-year-old season, the complaint states, and Jackson was anxious to have them either proven as breeding prospects or culled. Jackson demanded an independent evaluation of the horses and informed Headley he wanted veterinarians at the University of California-Davis to evaluate certain runners Headley alleged were injured or had physical issues. The complaint says Headley "resisted any evaluation or confirmation of his claims that certain horses were injured and prevented Jackson from doing so by denying Jackson physical access to the horses."California breeder Tom Bachman, hired by Jackson in April 2005, was then asked by Jackson to evaluate the Jackson horses stabled with Headley, but the complaint alleges "Headley aggressively denied Bachman physical access to the horses in question and took steps to confine and isolate the horses from scrutiny including pad-locking horses in the stables in violation of track rules concerning the safety and health of the horses."Later that month," the complaint continues, "when Bachman was finally able to get access to the horses, Bachman discovered that the partnership horses entrusted to Headley's training were definitively out of racing shape and typically overweight and hardly trained, if at all. Eventual UC Davis examinations revealed that Headley's claims that specific horses were injured or rehabilitating an injury were either exaggerated or completely fabricated."The Jackson-Headley partnership was dissolved in May 2005, with Jackson agreeing to transfer his interest in a horse named True Integrity to Headley as a disbursement of the partnership assets.It was shortly after the dissolution of the partnership that Bachman received a call from Silvertand concerning the Maggy Hawk transaction. The investigation that ensued led Jackson to confront de Seroux "with proof of their fraud," and, according to the amended complaint, "de Seroux and Narvick voluntarily produced records which confirmed the fact that they had repeatedly paid the sellers of horses purchased privately by Jackson amounts less than the prices paid by Jackson." Information also was allegedly produced by de Seroux showing secret or undisclosed payments to Jackson's advisers from owners or consignors of horses he bought at public auction or through private sales. The list of horses is included as evidence in the amended complaint.From that information, Jackson's attorneys compiled a list, presented as Exhibit B in the amended complaint, listing 41 private transactions between Oct. 2, 2003, and March 29, 2005, for which Jackson paid $22,061,219. Exhibit B alleges $2,855,235 of that amount was fraudulently divided among the defendants.Also compiled, and included in the amended complaint as Exhibit C, are alleged commissions collected on public auction horse purchases made on Jackson's behalf by de Seroux and Headley. Narvick is alleged to have received undisclosed or secret commissions totaling $93,450 on the public auction purchase of 13 horses. Headley allegedly received $225,500 in undisclosed or secret commissions on the purchase of 11 horses. In addition, Exhibit C alleges, Headley solicited and/or received a "consulting fee" of $86,688 from an unnamed consignor, and $50,000 for being underbidder on a horse identified only as "Hip 81."Under California Business and Professions Code Section 19525, a party injured as a result of hidden commissions or fraud in bloodstock transactions is eligible for triple damages, and Jackson's amended complaint is asking for nearly $18 million, plus punitive damages. Triple damages from private transactions total $12 million, the amended complaint states, with $1.35 million from fraudulent undisclosed commissions, kickbacks, and bribes on auction purchases; up to $2.5 million from the overpayment for Buckram Oak; $600,000 in training fees from Headley; $700,000 in damages stemming from loss of value in horses that were in Headley's care; $400,000 in expenses related to the hiring of Bachman; and $250,000 in profits illegally obtained by Martin. In addition, the state of California may suspend or revoke the license of anyone found in violation of the law regulating bloodstock transactions.Jackson also seeks an award for reasonable attorney fees for violation of Business and Professions Code Section 19525, which the complaint said was enacted in 1994 to protect the public against fraudulent conduct in the horse industry."The Thoroughbred industry has for decades, if not longer, been plagued by unethical and corrupt agents and other individuals who prey upon buyers and others new to the Thoroughbred market," the amended complaint states. "In the vast majority of occasions when a newcomer is defrauded, the victim has not pursued a claim because of fear of retribution from other unethical elements in the Thoroughbred industry which carries the threat of making it difficult or impossible for the victim to successfully continue in the Thoroughbred industry or fear of the possible public embarrassment associated with the public disclosure of such matters. Such a victim is then faced with balancing the option of vindicating his or her rights against the perceived threat that their business venture will be destroyed through retribution, undisclosed payments or other corrupt conduct. This implied threat has developed into a culture that has permitted this unethical element of the Thoroughbred industry to defraud the public with a large dosage of impunity..."Jackson, by instituting this action, seeks to further these important public policies, to protect the public and to discourage others from engaging in unethical, fraudulent or unlawful conduct. After filing the present action, Jackson has received letters, cards, faxes, and emails applauding Jackson's effort to bring attention to this issue and expressing the hope that this lawsuit will help clean up the Thoroughbred industry."Settlement talks have been ongoing while Jackson's attorneys have attempted to subpoena bank records from de Seroux, Narvick, and other defendants."Mr. Jackson and Kentucky counsel for Jackson and Kentucky counsel for de Seroux have participated in settlement discussions for some period of time, and Mr. Jackson made the conditions that he would require as part of any settlement absolutely clear to Mr. de Seroux," said Richard A. Getty, of the Getty Law Group, which represents Jackson. "We have not been able to reach agreement thus far, and because of that process being attenuated, we've chosen to move forward vigorously in the litigation."



Copyright © 2016 The Blood-Horse, Inc. All Rights Reserved.