Gill Wins Court Ruling in New York Tranquilizer Positives
by Tom LaMarra
Date Posted: 3/11/2006 12:28:06 PM
Last Updated: 3/14/2006 9:37:58 AM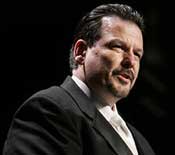 Owner Michael Gill
Photo: Wally Skalij

Eclipse Award-winning owner Michael Gill, who sued the New York State Racing and Wagering Board over two positives for a tranquilizer at Saratoga in 2004, has won his case in New York Supreme Court.Clay's Rocket, winner of the second race at Saratoga Aug. 8, and Kalookan Lady, who finished fourth in the fifth race Aug. 9, tested positive for fluphenazine, a drug used as a sedative for psychotic disorder and to treat schizophrenia. The horses were disqualified and the purses redistributed.The NYSRWB last year ruled that because fluphenazine can remain in a horse's system more than seven days, no penalty would be levied against trainer Mark Shuman. Fluphenazine may not be administered within seven days of a race under New York rules.In an interview with The Blood-Horse in 2004, Gill said trainers commonly use the drug, which has a calming effect, on nervous horses for training purposes. The drug was last used on his horses 36 days before their races, he said.Gill's attorney, Karen Murphy, said March 8 Gill's suit was based upon the NYSRWB repeatedly adopting emergency medication rules that never went through the state-mandated rule-making procedure until they became official in 2005. Therefore, she said, industry participants had no idea what the rules were at any given time during the period."That's a very perverse case of emergency rule-making powers," Murphy said. "The law gives the opportunity to know the rules may change, and for people to be heard at a reasonable time. The hope here is that government doesn't act in this fashion."Gill was awarded about $25,000 in redistributed purse money from the Saratoga races, but Murphy said "the next step is to make (Gill) whole." She mentioned legal fees as well as $75,000 he lost when one of the horses was claimed and then returned when the claim was voided because of the positive. "That was a loss to Mr. Gill that needs to be addressed," Murphy said.NYSRWB public information officer Dan Toomey couldn't be reached for comment March 10, the day Murphy served notice. However, he told Daily Racing Form the board is reviewing the court decision.The NYSRWB could appeal the Supreme Court judge's ruling.Gill, who won the 2004 leading owner title at Saratoga and won the Eclipse Award as leading owner for 2005, had expressed dismay over the initial positives but predicted he would be vindicated. Still, Murphy said, the year-and-a-half battle took its toll."Mr. Gill has not only suffered economic injury but reputational injury," Murphy said.



Copyright © 2015 The Blood-Horse, Inc. All Rights Reserved.