Guild Forced to Cut Benefits, Increase Dues for Survival
by Ray Paulick
Date Posted: 2/28/2006 6:35:24 PM
Last Updated: 3/2/2006 10:32:22 AM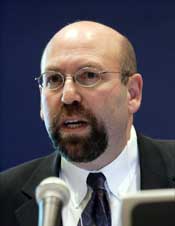 Jockeys' Guild legal counsel Barry Broad announces policy changes designed "to insure the survival and fiscal stability of the Guild."
Photo: Tim Sharp

The Jockeys' Guild on Tuesday made several changes in its dues, insurance, and disability policy designed to bring the organization back from the brink of bankruptcy at which it found itself following a management change in November that purged former president Wayne Gertmenian and his top assistants. The changes were announced after a closed-door session on the final day of the Guild's two-day annual assembly held near Dallas. Beginning April 1, per ride fees paid to the Guild will increase by 33%, from $3 to $4 and from $6 to $7 for members paying for additional benefits. At the same time, for a period of at least three months (from April 1-June 30), temporary disability payments will be reduced by 50%, from $200 to $100 per week. In workers' compensation states, benefits during that period will be cut from $100 to $50 per week. Currently, 467 jockeys are enrolled in the full-benefits plan for $7 per mount fee. Eligibility for disability will be limited to members who have at least 100 mounts annually. Under Gertmenian, that standard was relaxed to activate coverage for every member that had one mount annually. Benefits will be terminated April 1 for the 100-plus members who are delinquent in payments of dues, assessments, or health care premiums. To remain eligible, delinquent members must either be fully paid by April 1 or pay 50% of their outstanding amount and pledge to repay the remainder by Dec. 31, 2006. The outstanding amount of money owed to the Guild by jockeys is in excess of $700,000. That's due in part, legal counsel Barry Broad said, to the fact "there was a six-month lapse in the Gertmenian era when invoices weren't sent to members. They just stopped doing their job." In order to cut costs, the Guild is looking at optional health plans with higher co-pays and lower premiums. "These measures were done to insure the survival and fiscal stability of the Guild," said Broad. He indicated the Guild had net assets of $4-million to $5-million when Gertmenian took over in June 2001 and had a "substantial negative net worth position, including 200 bounced checks," when he was fired.The Guild filed a federal lawsuit Monday in U.S. District Court in the Central District of California against Gertmenian, his consulting company Matrix Capital Associates, his daughter Farrell and her consulting company Scoop Inc., former Guild vice president Albert Fiss, and former chief financial officer Gevork Asatryan.



Copyright © 2015 The Blood-Horse, Inc. All Rights Reserved.