Dual Agency Bill Heads to Kentucky Senate Floor
by Tom LaMarra
Date Posted: 2/28/2006 1:16:05 PM
Last Updated: 3/1/2006 7:54:49 AM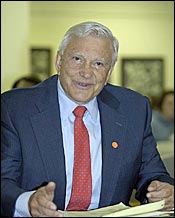 Owner Jess Jackson, at Feb. 28 hearing on dual agency legislation.
Photo: Anne M. Eberhardt

Legislation that would protect buyers and sellers in equine transactions is on its way to the floor of the Kentucky Senate, though one lawmaker plans to offer two amendments. Meanwhile, horse industry representatives planned another meeting to hammer out a compromise on some language in the bill.The measure, which targets dual agency in the sale of horses of any breed, unanimously passed the Senate Licensing and Occupations Committee the morning of Feb. 28. The bill, including floor amendments, previously passed the House of Representatives 84-14.Thoroughbred owner/breeder Jess Jackson, who filed a lawsuit in California last year against two agents and a trainer he alleges defrauded him by accepting undisclosed commissions from sellers, has lobbied for the legislation and was on hand again at the Feb. 28 committee meeting. Jackson, who called the legislation "vanilla," said he would have preferred it had remained in its original form, but after changes are made on the Senate floor, the measure would be "in harmony with the entire Thoroughbred industry."The House approved two amendments, one that increases the amount an agent may receive from a third party from $100 to $500, and one that exempts transactions of $10,000 or less for show horses. The latter met with opposition from Jackson and the Consignors and Commercial Breeders Association, as well Republican Sen. Damon Thayer, who wants it removed from the bill."Just a little fraud is too much," Jackson said."Theft is theft regardless of whether it's $500 or $5,000," CBA representative Bayne Welker said. "If anybody needs this legislation, it's the little guy."The exemption amendment was offered by Democratic Rep. Mike Denham, who is involved with show horses. Thayer said in his opinion "stealing is stealing," and that he would work to get the revised bill passed by the full Senate.Thayer's other amendment would clean up language dealing with damages. Under his amendment, any person injured by dual agency could recover three times the amount received by the agent, as well as legal costs and reasonable attorney's fees.Jackson, Welker, and others plan to meet March 2 to further discuss the legal ramifications of the legislation. Welker expressed concern damages aren't adequately spelled out in the bill.Before the committee approved the bill, Democratic Sen. Ernesto Scorsone questioned language that doesn't require disclosure of reserves, identity of principals, or auctioneer's commissions. Jackson said the provisions were included at the request of Keeneland, and in an effort to maintain unanimity, "We yielded to their logic. I'm sure they have their reasons."Keeneland officials after the meeting said the company has a policy of not revealing employee's salaries, and thus would prefer not to make public auctioneers' commissions.Jackson acknowledged the same principles generally apply at all sale companies, but in response to Scorsone, he said: "In my personal opinion, I don't see why disclosure and transparency shouldn't exist in all transactions."At the very least, the legislation, if signed into law, would serve as preventative medicine, Democratic Sen. Ray Jones II said. "It's an important deterrent to fraud," he said. "Before they think about entering into fraudulent transactions, this will be in the forefront of their minds."



Copyright © 2015 The Blood-Horse, Inc. All Rights Reserved.