CHRB Chairman Shapiro: 'We Are Fighting for Our Lives'
by Ray Paulick
Date Posted: 2/27/2006 6:30:45 PM
Last Updated: 2/27/2006 7:58:37 PM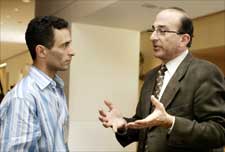 Jockey John Velazquez, left, talks with CHRB chairman Richard Shapiro during a break at the Jockeys' Guild meeting Monday morning.
Photo: Tim Sharp

California Horse Racing Board chairman Richard Shapiro, during a talk at the Jockeys' Guild annual assembly, welcomed the Guild back into the "racing family" and congratulated them for making a management change in November 2005 that ended Wayne Gertmenian's 4 1/2-year tenure as president. Shapiro spoke on the topic of "Where Is the Industry Going" at a Guild luncheon Monday near Dallas at the organization's 2006 assembly – entitled "Rebuilding Together."Shapiro became an outspoken critic of Gertmenian shortly after joining the CHRB in October 2004. "Frankly, I was outraged," he said. "I could not understand how a sport so rich in so many ways could allow a Gary Birzer to end up paralyzed and penniless. It was shameful. As I called into question the issues, as I dug deeper, as I got more involved, I heard a lot of horse manure.""Yes, I was angry and I wanted to hold those responsible accountable. As we sit here today, a difference was made. You, the members of this organization, moved the reins and said, 'We will not tolerate corrupt, self-promoting leadership,' and you made the change. And for that you are all to be congratulated."You are part of the family, the racing family. You deserve a seat at the table. But as the food gets passed around that table, you need to gauge how many people need to be served. The family is also dysfunctional in many ways. But in the end it is essential that you communicate reasonably, professionally, and honestly to achieve your goals."Shapiro urged jockeys to seek workers' compensation solutions for their insurance problems and promised that a scientific study of jockey weight now under way will lead to a change in the scale of weights. "Not a number picked out of the air, but a scientific study to insure you are riding healthy."He said once the jockey weight study is completed, changes should be made on a nationwide basis. "We need to have a uniform scale of weights throughout the country, and also uniform weighing procedures."Overmedication and a high injury rate among horses must also be addressed, Shapiro said. He mentioned the CHRB's recent decision to force California's major tracks to install "Polytrack-like surfaces" to reduce injuries.He also said it is "unfair and cruel to put lame horses on the track" as a result of overuse of medication."You must stand up, and you must not mount those horses. They don't belong there. You should demand to know if horses have been shock-waved. You should demand to know a horse's ailments, and we, the regulators, need to do a better job of rooting out those that overmedicate and choose to cheat."The CHRB chairman talked of the "haves" and "have nots," the tracks with and without slot machines. "Slots don't really do anything for us except give us a subsidy to raise purses, raise your commissions, and make the tracks more profitable. They do not bring us fans, and their benefit will be short-lived."We are not growing our sport. We are not marketing our product. We are not bringing new fans to the game. We are threatened by increased proliferation of other forms of gambling -- within our shores and beyond our shores."Simply stated, we are fighting for our lives. Racing needs to fix racing. We cannot survive on subsidies. Racing needs to do a better job if it is going to survive. I believe we, the regulators, need to demand that those who want a license to conduct a race meet prove to us that they will promote and be worthy of that license. We cannot survive on just gambling."



Copyright © 2015 The Blood-Horse, Inc. All Rights Reserved.