Jockeys' Guild Assembly Opens with Accounting of Gertmenian's Tenure
by Ray Paulick
Date Posted: 2/27/2006 12:31:01 PM
Last Updated: 2/28/2006 7:16:42 AM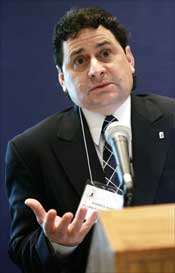 Jockeys' Guild interim national manager Darrell Haire speaks to the delegation Monday morning.
Photo: Tim Sharp

Jockeys' Guild officials provided the painful details of the end of the Wayne Gertmenian era to its members during Monday's opening session of its two-day national assembly near Dallas. The assembly was delayed from its customary December date because of a shortage of Guild funds.Gertmenian was named president of the Guild in 2001 following the termination of longtime national manager John Giovanni. He was fired last November after persistent questions about Guild finances, both from membership and during a Congressional hearing where Gertmenian was badgered about questionable claims on his resume and about his decision to terminate on-track accident insurance for members.Barry Broad, currently legal counsel for the Guild and a longtime lobbyist for the organization, said Gertmenian personally netted nearly $1.2 million over a three-year period, from 2002-04. Broad said Gertmenian used the Guild's legal counsel, Lloyd Ownbey, to take advantage of the board of directors when Gertmenian proposed a new employment contract that would pay him years of salary in advance in the event he was terminated.On Nov. 15, when Gertmenian, Ownbey, and vice president Albert Fiss were terminated, Broad said Gertmenian told him, "'We've never been in better financial shape than we are today. We have a $3.5-million war chest.'"In reality, the Guild was stripped of most of its assets. "In fact, on the day they were fired, they emptied out the bank accounts and wrote themselves $100,000 checks," said Broad. "We were nearly bankrupt."Darrel Haire, interim national manager, called Nov. 15 "the day the jockeys 'took back' their own organization."Gertmenian is the subject of a "very active" FBI investigation, according to Broad, who added that the Guild plans to sue the Pepperdine University professor to try and get some of its money back.Yet some in the audience are worried that Gertmenian still has support among members."There are still people out there who think the world is flat," said Broad, "and I'm sure somebody believes in the Fairy Godmother. But I hope none of you believe still believe in him."



Copyright © 2015 The Blood-Horse, Inc. All Rights Reserved.