ClassicStar Operating a Day After IRS Visit
by Dan Liebman
Date Posted: 2/23/2006 5:50:44 PM
Last Updated: 2/26/2006 1:02:41 PM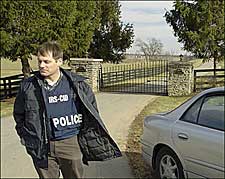 Special agents with the Internal Revenue Service were posted at the entrances to ClassicStar Farm Thursday.
Photo: Anne M. Eberhardt

A day after agents from the Internal Revenue Service were at ClassicStar Farm near Versailles, Ky., the horse operation is continuing, the farm manager said today.While refusing to be quoted about the investigation, farm manager Matt Lyons said "it is business as usual." He said mares are being bred and horses cared for like any other day at a Thoroughbred nursery. Lyons said the agents, which were no longer at the property, took some records with them.There are 121 mares at ClassicStar.For the last few years, ClassicStar, which involves the leasing of mares, has spent freely on broodmares, the subsequent foals bred in various partnership names. The offspring were mostly sold as yearlings.It was announced Feb. 7 that David Plummer and his son, Spencer, were no longer associated with ClassicStar. The managing partner of ClassicStar continues to be co-owner Tony Ferguson, who is an executive in the oil and gas exploration business.Agents at the farm directed inquires to assistant U.S. Attorney Alan Garten. Reached at his Portland, Utah, office, Garten said, "We cannot comment on an ongoing investigation but if the IRS is there, that speaks for itself."Garten would not say if the investigation was focused on individuals or ClassicStar, or if records, property or horses were being seized.Daniel Wardlaw, a special agent with the Internal Revenue Service Criminal Investigation division and a public information officer based in Vancouver, Wash., said "If you have a photo of a fellow with a jacket with an 'IRS-CID' insignia in that vicinity, he is on official business."Wardlaw would not comment on the number of agents at the farm nor what time they arrived."I apologize for being tight-lipped, but it's a question of respecting people's rights," Wardlaw said.Plummer owns ranches in Texas and Utah. A number at his Utah ranch was picked up by an answering machine, which did not allow for a message to be recorded. The announcement two weeks ago said the Utah ClassicStar office was to be closed and moved to Kentucky.A message left on Ferguson's voice mail at his office was not immediately returned.For four straight years, starting in 2001, ClassicStar spent large amounts at breeding stock sales. The mares were purchased the first year in Plummer's name, 15 tickets signed for broodmares costing a total of $4,171,000. In 2002 and 2003, ClassicStar led all buyers by money spent, purchasing 27 mares for $17,535,000 in 2002 and 20 for $13,570,000 the following year.Included in 2002 was the top-priced mare sold at public auction that year, Bless, by Mr. Prospector. In foal to Storm Cat, she was purchased for $4 million.The last year of major spending was 2004, when ClassicStar spent $9,835,000 for a dozen mares.



Copyright © 2015 The Blood-Horse, Inc. All Rights Reserved.