Roy Chapman, Owner, Breeder of Smarty Jones Dies
by Leslie Deckard
Date Posted: 2/17/2006 1:42:58 PM
Last Updated: 2/20/2006 10:03:31 AM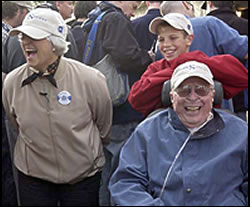 Roy and Pat Chapman, who raced Kentucky Derby winner Smarty Jones.
Photo: Anne M. Eberhardt

Roy Chapman, who campaigned dual Classic winner and champion Smarty Jones with his wife, Pat, died Feb. 17 in Pennsylvania."He was a great guy and a great competitor," said trainer John Servis. "He went out in style, I'll give him that. He had a great couple of years with Smarty. In the short time I trained for him I enjoyed it; he was a great guy to train for. "My favorite moment was at the press conference at the (Kentucky) Derby when he said 'Be careful what you ask me because I'm a used car salesman and I'm from Philadelphia.'"Known affectionately as 'Chappy', the 79-year-old suffered from emphysema and was tethered to an oxygen tank and wheelchair while making the rounds in 2004 at Churchill Downs, Pimlico Race Course, and Belmont Park, but he never let the disease get the best of him while watching his homebred son of Elusive Quality make the run toward the Triple Crown.The Chapmans entered the Thoroughbred business in the 1980s and at one time owned the 100-acre Someday Farm in Chester County, Pa., where Smarty Jones was foaled. They have since sold the farm, and moved to a new home on an 11-acre plot, but have continued to breed and race under the Someday banner. The Chapmans, who owned auto dealerships around the Philadelphia area, divided their time between homes in Pennsylvania and Florida. While Smarty Jones was the most well-known horse to wear the blue and white silks of Someday Farm, the Chapmans have also raced eight additional stakes winners. The late Robert Camac trained for the Chapmans and also picked out the dam of Smarty Jones, I'll Get Along, for them at the 1993 Keeneland September yearling sale. She was being offered by Gainesway Farm, agent, on behalf of her breeder, the late Frances A. Genter, who raced 1990 Kentucky Derby (gr. I) winner Unbridled. I'll Get Along cost the Chapmans $40,000, but won 12 races in her career and returned $276,969 in purse earnings for the owners. Camac, who died in 2001, secured the mating of I'll Get Along to Elusive Quality for the Chapmans. The resulting foal was born at Someday Farm the following Feb. 28, a birthday shared not only by Servis' mom, but by Pat Chapman's mother, Mildred. Mildred, a know-it-all as a youngster, was tagged with the nickname 'Smarty Jones.' The Chapmans decided the colt would be a perfect namesake.Following Camac's death, the Chapmans sold many of their horses, including I'll Get Along, who was in foal to

Doneraile Court

, at the 2001 Keeneland November In 2004, Brent Fernung, agent, consigned I'll Get Along, carrying a full sister to Smarty Jones, to the Fasig-Tipton Kentucky November mixed sale where Gaines-Gentry Thoroughbreds purchased her for $5 million. The story of what Smarty Jones, or "Smarty" as his fans took to calling him, overcame as a young horse is well known. As a 2-year-old Smarty was having a schooling session in the starting gate when he reared up and hit his head on one of the iron bars that runs across the top of the gate. In addition to injuring his eye, Smarty Jones suffered multiple fractures of his skull, and the orbit (the circular bone that holds the eyeball) was broken. The colt was taken to New Jersey Equine Clinic where Dr. Patricia Hogan and her staff nursed him back to health.Smarty's road toward becoming one of the most popular horses began with a 7 ¾-length maiden-breaking win at Philadelphia Park. He then won the Pennsylvania Nursery Stakes by an eye-popping 15 lengths. From there Servis began mapping a road toward the Twin Spires of Churchill Downs by sending him to Aqueduct where he won the Count Fleet Stakes by five lengths. He followed that with a three-quarter length win in the Southwest Stakes at Oaklawn Park.With Oaklawn Park celebrating its 100th anniversary, track president Charles Cella came up with an idea to offer a $5-million bonus to any horse that could win the Rebel Stakes, Arkansas Derby (gr. II), and the Kentucky Derby (gr. I). Team Smarty Jones responded by taking the Rebel by 3 ¼ lengths before winning the Arkansas Derby by 1 ½ lengths. He entered the Kentucky Derby as the 4-1 favorite and walked away with the roses after defeating

Lion Heart

by 2 ¾ lengths, to become the first undefeated Derby winner since Seattle Slew in 1977.From Kentucky it was on to Maryland, where Smarty dominated in the Preakness (gr. I), scoring an 11 ½-length win, the largest margin of victory in the race's history. The previous mark, 10 lengths, was recorded in the first running in 1873 by Survivor. The Smarty Party moved to Belmont Park where a record 120,139 fans showed up to watch Smarty make history in the Belmont Stakes (gr. I). However, the popular little colt failed to win the test of champions, falling a length short of Birdstone .Smarty Jones won eight of nine career starts and earned $7,613,155 before retiring to Robert Clay's Three Chimneys Farm, where he is standing his second season for $100,000. Funeral arrangements for Roy Chapman are pending.



Copyright © 2015 The Blood-Horse, Inc. All Rights Reserved.