KEEP-Backed Racetrack Casino Bill Introduced in Kentucky
by Tom LaMarra
Date Posted: 2/16/2006 4:42:27 PM
Last Updated: 2/17/2006 9:58:19 AM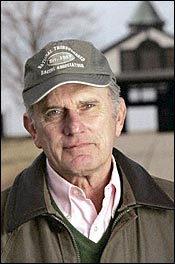 KEEP chairman Brereton C. Jones.
Photo: Associated Press

Legislation to authorize a constitutional amendment on casino gambling at Kentucky racetracks was introduced Feb. 16 by legislators in the House of Representatives and Senate.Democratic Rep. Joe Barrows, a horse industry advocate whose district includes parts of Fayette, Franklin, and Woodford counties in Central Kentucky, introduced the legislation on behalf of the Kentucky Equine Education Project, which has spent about $2 million on a "let the people decide" marketing campaign. KEEP, a multi-breed industry group, believes the public should have the right to vote on expanded gambling in the state.There are two bills (HB 600 and HB 601)--one to authorize a constitutional amendment, and another that creates the framework for casino gambling. Companion legislation (SB 198 and SB 199) was introduced in the Senate by Democrat David Boswell, whose district includes Owensboro, a western Kentucky city that has been mentioned as a potential location for a casino.The legislation is in line with a proposal KEEP unveiled last September, officials said. It calls for a referendum on casino gambling at the state's eight racetracks, as well as dedicated revenue for various state programs. The state would get 35% of gross revenue each year for public education, health care, local government, economic development, and other programs.Racetracks, which would bear the cost of all infrastructure, would get 49.35% of gross gaming revenue, with 14.65% for purses and breed development and 1% for non-racing breeds. Subs-splits and details on racing- and breeding-related programs are included in the bill.The annual gross-revenue estimate for the state is $437.5 million when all the proposed casinos reach maturity.The legislation, if it moves to committee, figures to trigger negotiations given the desire by some lawmakers to have casino gambling at some non-racetrack locations. Bills calling for non-track locations already have been introduced during the current General Assembly session, which is now past its midway point."Now the consensus-building begins," KEEP chairman Brereton C. Jones said after the bill was introduced. "Two things are extremely important to the public on this: One, is that they do not want a proliferation of gambling locations in the state. I think we'll have to reach a consensus and have racetracks plus a very few other locations. That's going to be imperative for it to succeed."The second point is that we must dedicate where (the casino revenue) goes. We may need some consensus building on that, because some legislators favor that and some don't. We've got a lot of work ahead of us, but in the last week or 10 days I've seen dramatic progress in this regard."A survey conducted on behalf of KEEP showed nine in 10 voters--92%--believe they should have a chance to vote on a constitutional amendment on casino gambling even if they opposed expanded gambling. Meanwhile, The Family Foundation of Kentucky and a group called "Say No To Casinos" have helped mount a campaign showing the potential negative impacts of casino gambling on the state and its residents.



Copyright © 2015 The Blood-Horse, Inc. All Rights Reserved.