Santa Anita, Pincay Settle Injury Lawsuit
by Lenny Shulman
Date Posted: 2/13/2006 4:12:38 PM
Last Updated: 2/16/2006 11:21:54 AM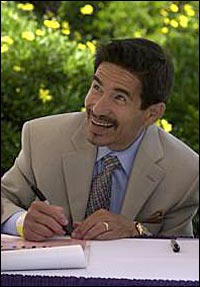 Retired jockey Laffit Pincay, has settled lawsuit with Santa Anita.
Photo: Hollywood Park

Santa Anita Park has settled a lawsuit brought by retired jockey Laffit Pincay Jr. stemming from the career-ending injury the rider suffered at Santa Anita March 1, 2003. The suit, which was to have gone to trial May 9, charged Santa Anita with negligence in not having a doctor present at the time the injury occurred, not giving the onsite ambulance crew proper instruction, and for problems with the turf course on which the spill occurred."We are very pleased with the settlement," said Pincay's attorney, Neil Papiano, of the seven-figure sum. Santa Anita president Ron Charles noted, "This was such an unfortunate event, and we're happy to put it behind us. We're all big fans of Laffit, and now everybody can move on."Papiano added that Pincay has also filed a lawsuit against Huntington Ambulance that is scheduled to go to trial May 9. Pincay was forced to retire at age 56 after it was found he had sustained two fractures to the cervical II bone in his neck. The Hall of Fame rider won more races than any other jockey in North American history, 9,519. Pincay was thrown to the ground when his mount, Trampus Too, clipped heels with Rainman's Request, the latter having had trouble negotiating a turn on Santa Anita's downhill turf course. The suit charged that instead of having his neck immobilized, Pincay was allowed to get up, walk around, and subsequently was driven in the ambulance to Santa Anita's first aid station, where he was treated by a physician's assistant who manipulated his neck and told him it was alright to return home, according to Papiano. Pincay did not find out the seriousness of his injury until two days later. Papiano said Pincay has also filed charges against the physician's assistant and the doctor who left him in charge at the racetrack.In a separate matter, a $7-million award to Pincay and fellow retired Hall of Fame jockey Chris McCarron was affirmed by the Supreme Court of the United States, which declined to hear an appeal brought by the riders' former business managers. The denial of the petition for a writ of certiorari was dated Dec. 5, 2005.The long-running case against Vincent Andrews, Robert Andrews, and Vincent Andrews Management Corp. came after Pincay argued he lost more than $1 million in investments orchestrated by the Andrews in addition to paying the brothers' firm a half-million dollars in management fees. McCarron said he lost almost three-quarters of a million dollars in investments and paid more than one-third of a million dollars in management fees. The case was first ruled on in 1992, when the brothers were found guilty of breach of contract, intentional and negligent misrepresentation, and concealment and breach of fiduciary duty. After an appeal, the jockeys received a larger award from the Central District Court of California based on interest and punitive damages. Previous to the Supreme Court's decision, the United States Court of Appeal for the Ninth Circuit affirmed the district court's decision. Including interest and punitive damages, Pincay is owed nearly $4.5 million and McCarron just under $2.4 million.



Copyright © 2015 The Blood-Horse, Inc. All Rights Reserved.