Key Industry Economic Indicators Declined in 2005
by Blood-Horse Staff
Date Posted: 2/1/2006 6:44:04 PM
Last Updated: 2/2/2006 5:31:40 PM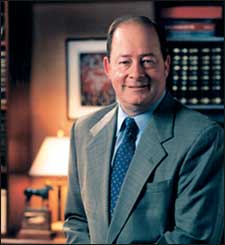 NTRA commissioner D. G. Van Clief, reported that purses topped $1 billion mark for sixth consecutive year.
Photo: NTRA/Horsephotos

The National Thoroughbred Racing Association and Equibase Company reported Wednesday that pari-mutuel handle and purses declined in the U.S. last year, primarily a result of racing cancelled due to weather.The information was included in the year-end "Thoroughbred Racing Economic Indicators" for the United States. Canadian pari-mutuel wagering on U.S. Thoroughbred racing in 2005, as well as for U.S. purses and race days, with prior-year comparisons, was also included in the report. The report said the industry experienced a 1.08% decline in aggregate purses, with the number of race days and pari-mutuel handle showing declines of 2.29% and 3.43%, respectively, compared to 2004. The pari-mutuel industry lost 147 days of racing from the previous year, as severe weather in several major racing states included record rains in California, hurricanes in the Gulf Coast and tornadoes in the Midwest. "It is encouraging to note that even with decreases in pari-mutuel handle, U.S. purses have topped $1 billion for six consecutive years," said NTRA commissioner D.G. Van Clief, Jr. "This trend correlates to the growth in alternative gaming, which plays a larger role in supporting our purse structure, and has helped fuel the extraordinary growth that we have seen in the bloodstock market in recent years." Thoroughbred Racing Economic Indicators (2005 versus 2004) Wagering on U.S. Races
2005: $14,580,757,317
2004: $15,099,011,926
Change: -3.43 U.S. Purses
2005: $1,080,742,875
2004: $1,092,565,395
Change: -1.08 U.S. Race Days
2005: 6,276
2004: 6,423
Change: -2.29



Copyright © 2015 The Blood-Horse, Inc. All Rights Reserved.