Penny's Thoughts
by Ray Paulick
Date Posted: 1/25/2006 11:59:27 AM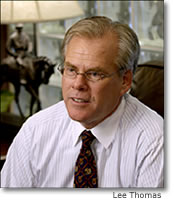 Ray Paulick
Editor-in-Chief


There was class and there was crass at the 35th annual Eclipse Awards dinner, held Jan. 23 at the Regent Beverly Wilshire Hotel in Beverly Hills, Calif., and broadcast live on TVG. And then there was Penny. The respected and beloved Penny Chenery, who brought the crowd to its feet when she was honored with an Eclipse Award of Merit, set the standard for class and elegance while reminiscing about her longtime love affair with horse racing and the life-changing experience of owning Secretariat, the 1973 Triple Crown winner and two-time Horse of the Year. It was enough to make you forget, if only for a moment, about slot machines, rebate shops, performance-enhancing drugs, and the many other issues that can take the fun out of this game. "I had a grand time, and I can't tell you how much fun it was, what a wonderful experience it is to have a truly great horse," she said. Chenery has mostly memories today, memories of a spectacular horse and a golden era when sportsmen (and the occasional sportswoman) ruled. The sportsmen are still around, but now they're clearly outnumbered by those who seem to want more out of the game than they put in. She offered some charitable advice to today's racing participants, should any of them be lucky enough to campaign a horse that captures the imagination of the public. "Sign every autograph," she said. "Give every interview. It's just a wonderful experience. By participating and showing people how much you love racing, you make racing stronger." Chenery wasn't offering lip service. She has dedicated countless hours to industry organizations and has led a one-woman crusade to keep the flame burning for Secretariat, who turned on a generation of racing fans more than 30 years ago. The sport doesn't just need another Secretariat, it needs another Penny Chenery. RETIRING HALL OF FAMERSThe retirements of three Hall of Fame jockeys over a six-month period--Pat Day in August, Gary Stevens in November, and Jerry Bailey, who will hang it up Jan. 28--leave an enormous void on the track that will be impossible to fill. All three riders were superstars--gifted athletes and fierce competitors who were charismatic, articulate, and elevated their profession to a new level. Fortunately, racing's loss will also be racing's gain. All three will remain closely involved in the sport. Day, who experienced a spiritual awakening in 1984 and has been spreading his born-again Christianity ever since, is about to embark on a nationwide tour on behalf of the Racetrack Chaplaincy of America. His goal is to raise awareness and funds for local racetrack chaplains. Stevens has begun his new career as an analyst on TVG and also will appear on NBC's Sunshine Millions telecast Jan. 28, when Bailey is scheduled to ride his final race. Bailey, in turn, has signed on with ESPN and ABC Sports, where he will lend his expertise as an analyst for racing telecasts beginning in March. That is good news for anyone who has endured the banal commentary that has become the norm on cable channels and networks that broadcast the bulk of televised races. Both Stevens and Bailey are comfortable behind the microphone, and were known as thinking riders whose insights and communication skills will make racing telecasts more interesting for veteran fans and more educational for newcomers to the sport. It's an ingredient ABC Sports had long ago when the late Hall of Fame jockey Eddie Arcaro brought an insider's perspective to racing telecasts. Having someone of that stature and experience in the broadcast booth has been sorely missing since Arcaro said farewell.



Copyright © 2015 The Blood-Horse, Inc. All Rights Reserved.