Saint Liam Makes Warrens' Dreams Come True
by Jack Shinar
Date Posted: 1/24/2006 5:35:36 AM
Last Updated: 1/24/2006 5:28:58 PM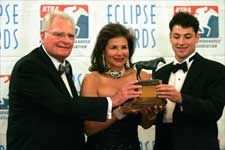 William, Suzanne, and Andrew Warren hold the Eclipse Award for Champion Older Male and Horse of the Year Saint Liam.
Photo: Christina House

Most handicappers expected a close race for the 2005 Horse of the Year Award, but it didn't turn out that way as Saint Liam won in a landslide.At the Eclipse Award gala held Jan. 23 at the Regent Beverly Wilshire in Beverly Hills, Calif., Saint Liam romped home with the top honors in the same way he did in most of his races. The 5-year-old son of Saint Ballado won four grade I races during his championship campaign, including the Breeders Cup Classic - Powered by Dodge at Belmont Park in the fall. For the top award, Eclipse voters shunned Afleet Alex, the colt who grabbed most of the attention in the mainstream press as he dominated the 3-year-old Classic picture.This outcome marked the second year in a row that the voters went for an older, consistent performer who delivered on Breeders' Cup Day over a hero from the spring Classics. The 2004 Horse of the Year went to handicap division standout Ghostzapper over the headline-making 3-year-old Smarty Jones by a substantial margin. Like Smarty, Afleet Alex went to the sidelines following the Belmont Stakes (gr. I) in June."I can't believe this has happened; it's inconceivable," said Suzanne Warren, who campaigned the since-retired Saint Liam along with her husband, William K. Warren Jr. "For horse owners, this is the pinnacle. We're astounded."So much of winning comes down to timing, the Warrens noted after the awards program."Afleet Alex was a formidable horse," Mrs. Warren said. "But he couldn't compete at the right time. It doesn't only take a fast horse, but a sound horse all year long to win this (award). We were very fortunate." Her husband echoed her sentiments."It's unbelievable," said the Tulsa, OK., businessman who has a six-horse stable with his wife. "This is better than winning the Kentucky Derby. It's certainly better financially. This horse has finally got me out of the red."William Warren credited a team approach to horse management for helping make his dream come true. "After 20 years in this business, I was hobbling along pretty much by myself. I decided I needed to change things."He enlisted such experts as bloodstock agent Mark Reid and trainer Richard Dutrow, Jr., for his team concept. Together, they mapped out a winning strategy.Voters awarded the bay horse 194 first-place votes to 56 for Afleet Alex. The third finalist for Horse of the Year, the champion sprinter Lost in the Fog, received one vote. Saint Liam also won the Eclipse for older male in balloting by the Daily Racing Form, National Turf Writers Association and National Thoroughbred Racing Association. Cash is King Stables took home the Eclipse for best 3-year-old male as Afleet Alex easily outpolled Flower Alley. Cash is King -- made up of friends Chuck and Carol Zacney, Jennifer Reeves, Joe and Colleen Lerro, Bob and Terese Brittingham and Joe and Barbara Judge -- also received a special Eclipse Award. That honor was given in recognition of their efforts to raise money for childhood cancer research in connection with Alex's Lemonade Stand, which was started by an 8-year-old Connecticut girl, Alex Scott, who died in August 2004. More than $2.5 million was raised in 2005."What a whirlwind for us," said lead partner Chuck Zacney. "Five friends get together and start a partnership in 2004. We bought a horse and he starts winning - and winning."Through everything, it's been because of one person - (trainer) Tim Ritchey. He knew what made Alex tick more than anyone else." An Eclipse Award of Merit went to "Secretariat's mom" Penny Chenery, who reprised her famous arm-waving performance from her colt's win in the 1973 Belmont Stakes when she accepted the award."I've loved doing this for thirty-some years and I'm still loving it," Chenery said.It turned out to be a mostly formful evening. The only close vote came in the male turf division with Leroidesanimaux nipping Artie Schiller, 119-116, even though Artie defeated the Brazilian bred in the NetJets Breeders' Cup Mile (gr. I) in convincing fashion. Leroidesanimaux dominated in three earlier races, swaying the voters. Coupled with Juddmonte Farms' Intercontinental's win in the female turf division, Bobby Frankel became the first trainer to sweep the turf awards in the same year.On the human side, outspoken Michael Gill won his first Eclipse as the nation's top owner in a close vote over Eugene Melnyk's racing stable, then took the opportunity to say good-bye. Gill has led the nation in wins and purse money earned for the past three years but his high-volume claiming operation has not been accepted by the industry's establishment."They call me controversial," he told the audience. "But what's so controversial about telling the truth? I like to think I represent the underdog in racing. Why did I win this now when I didn't have as good a year (as the past two)? I believe it's because most people, when given the chance, are fair. I'm going to miss racing and I think racing is going to miss me back."Todd Pletcher made it back-to-back awards as the nation's top trainer following a year in which he topped $20 million in purse earnings and broke Frankel's single-season record. Pletcher counted 77 stakes victories -- 38 of them graded and 10 grade Is -- among his 257 North American victories in 2005. His No. 1 rider John Velazquez also won his second straight Eclipse as the nation's top jockey."This is really a team award, a team effort and I've been blessed with some tremendous owners, a tremendmous staff that is very dedicated and very focused on training our horses," said the 38-year-old Pletcher.Pletcher's filly Ashado -- owned by Jack and Laurie Wolf's Starlight Stable, Paul Saylor and Johns Martin -- won for best older female. Ashado became the first since Life's Magic in 1984-85 to win Eclipses in consecutive years as best 3-year-old filly and older female. As expected, Lost in the Fog won the Eclipse for leading sprinter in spite of his seventh-place finish in the TVG Breeders' Cup Sprint."Secretariat lost a few races; Man o' War lost, too," owner Harry Aleo said. "So, Lost in the Fog's 10 for 11; that's not too bad. ... With a little bit of racing luck, we'll be right back here next year."Owned by Hollywood personality Merv Griffin, 2-year-old male champion Stevie Wonderboy helped add some starpower to the horsey gala, which had a definite Oscar Night flavor. Playing the part of both a presenter and winner, Griffin joked on stage with TV host Larry King ("My horse isn't blind; he just wears really big sunglasses") and sang a few bars of "My Old Kentucky Home." "I could have named him Stevie Wonderbread," Griffin added. "Don't get me started." Griffin, who also was a presenter at the 2004 gala, enjoyed his dual role. "Last year when I came here, I didn't have a famous horse," he said. "I was claiming a lot off of Tim Conway. But that's not true this year."Folklore provided owners Robert and Beverly Lewis with an Eclipse for outstanding 2-year-old filly after winning four of seven starts in 2005, including the Alberto VO5 Juvenile Fillies (gr. I) . It was a record 24th Eclipse for trainer D. Wayne Lukas as well."We've had a number of marvelous years in racing and last year was no exception," said Beverly Lewis, who accepted the award for her ailing husband, who did not attend.Ogden Mills Phipps' Smuggler, a two-time grade I winner in 2005, was named 3-year-old filly of the year.Adena Springs, Frank Stronach's breeding operation, led North America in earnings in 2005 with nearly $12 million to win a third Eclipse award for leading producer.Emma-Jayne Wilson, who was named Canada's outstanding rider in 2005 after capturing the jockey title at Woodbine, won the Eclipse as leading apprentice, the second female to win the award after Rosemary Homeister Jr. in 1992.McDynamo, his division's 2003 Eclipse winner, received 2005 honors, too, as top steeplechase horse. Owned by Michael Moran and trained by Sanna Hendriks, the 8-year-old gelding closed out his season with back-to-back grade I victories in the Breeders' Cup Steeplechase and Colonial Cup.To purchase photographs of this year's Eclipse Award winners, click here.



Copyright © 2015 The Blood-Horse, Inc. All Rights Reserved.