Eclipse Award: Steeplechaser, McDynamo
by Blood-Horse Staff
Date Posted: 1/23/2006 10:22:42 PM
Last Updated: 1/24/2006 9:52:26 AM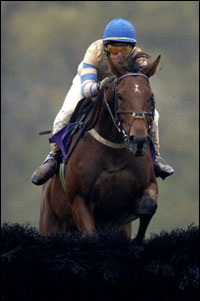 McDynamo
Photo: Skip Dickstein

By Sean Clancy
Nathan Fox went to Monmouth Park 16 years ago to look at

Dynaformer

, then a stallion prospect, and had one thought when he saw the horse walk out of his stall."I bet that horse can sire champion steeplechasers."Well, not quite, but Dynaformer impressed Fox enough that he made the purchase and told that tall tale at the dinner honoring breeders of 2005 Breeders' Cup winners at Keeneland Jan. 7. Dynaformer, who now stands for $100,000 at Three Chimneys Farm and has sired 476 winners including 72 stakes winners of more than $60 million, did the rest. Among all those winners stands McDynamo, champion steeplechaser of 2005 and the No. 2 leading earner in American steeplechase history.McDynamo sewed up his second Eclipse Award in three years with grade I wins in the Breeders' Cup Steeplechase and Colonial Cup, both at the expense of 2004 champion and fellow 2005 finalist Hirapour. Owned by Michael Moran and trained in Pennsylvania by Sanna Hendriks, McDynamo lost his first four starts of the year before rebounding with the two victories -- getting up off the floor and finishing with $265,425 in earnings for the season."To come back because there were so many people doubting him -- oh, he's lost a step -- and I never really felt that way," said Hendriks after the Colonial Cup. "It's gratifying to have him win the big races in the fall. It's also gratifying because he had the hock injury a couple of years ago and you worry about stuff like that."McDynamo has been overcoming obstacles -- figuratively and literally -- his whole life. Fox and partners Richard Kaster and Richard Fox bred their mare Rondonia to Dynaformer and sent the bay colt to the 1998 Keeneland September yearling sale. Consigned by Mr. and Mrs. Bill Wofford, agent, McDynamo drew some attention but (like many Dynaformers) looked immature, too big, by no means a 2-year-old prospect."He was big and gawky and Dynaformer had just not taken off yet," said Bill Wofford. "Dynaformers are usually big, rangy, ugly sometimes, they have hay bellies and they mature late. They can be a hard sell."Moran, who trains flat horses (mainly for himself) at his Unionville, Pa., farm and Fair Hill Training Center in Maryland, attended Keeneland looking for prospects and McDynamo attracted his attention -- sort of. Wofford spent several days trying to encourage Moran to take a look, but Moran never made it. "I saw him coming past so I pulled McDynamo out of the stall so Michael had to see him," Wofford said.Moran stopped, looked, and spent $82,000 on the horse. It's taken six racing seasons, but McDynamo has earned 10 times that ($833,104 over jumps and $44,890 on the flat). The gelding won two of nine flat starts, but fought the starting gate, hated the short distances, and signaled his general dislike for the game. Connected to steeplechasing via his hometown, his wife Anne (a former amateur jockey), his mother Betty (chairman of the Radnor Hunt Races steeplechase meet), and a variety of other factors, Moran thought jump racing and sent McDynamo to Hendriks as a 4-year-old in 2001.Highly regarded from the start, McDynamo won his hurdle debut and flew to novice stakes star the next year. He truly arrived in 2003, winning the Royal Chase for the Sport of Kings (NSA-I) at Keeneland, the Breeders' Cup, and the Colonial Cup in his only three starts. Sidelined by surgery at the end of that year, McDynamo didn't start until the Breeders' Cup in 2004 (a win) but lost the Eclipse Award race to Hirapour with a defeat in the Colonial Cup.The 2005 season started poorly, by McDynamo's standards anyway, as the horse finished third in the Royal Chase, second in the Iroquois (NSA-I), and second twice more before heading to the Breeders' Cup as an underdog for the first time. Hirapour came into the Oct. 22 race off a grade I win at Saratoga and had gained McDynamo's measure in the Royal Chase six months earlier.Unbeaten in five starts over the course and the two-time defending race winner, McDynamo flexed his muscles -- leading throughout and winning by nine lengths over Three Carat with Hirapour third. Five weeks later, McDynamo did it again, flashing front-running form and jumping boldly. Hirapour threatened, but flattened out in the stretch, 1 ½ lengths behind the winner -- and champion.And all these years later, what does Fox think?"An athlete's an athlete, and he's a super athlete," he said. "We're very proud of it. Steeplechasing was a little new to me at first, but he's just phenomenal. We take a great deal of satisfaction in seeing him do well."Just like he thought 16 years ago.Voting for Steeplechase Horse:
McDynamo, 226; Hirapour, 2; Preemptive Strike, 2; Sur La Tete, 2; Paradise's Boss 1; Voter Abstentions, 29.
>



Copyright © 2015 The Blood-Horse, Inc. All Rights Reserved.