Eclipse Award: Afleet Alex, 3-Year-Old Male
by Steve Haskin
Date Posted: 1/23/2006 11:58:49 PM
Last Updated: 1/24/2006 2:04:12 PM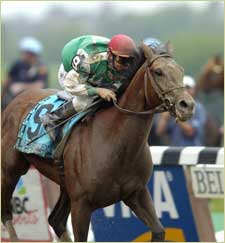 Afleet Alex crowned 3-Year-Old Male champ.
Photo: Skip Dickstein

All the human drama that surrounded Afleet Alex -- the charity work through Alex's Lemonade Stand; the colt having to be fed milk from a Coors Lite bottle as a foal by breeder John Martin Silvertand's 9-year-old daughter; Silvertand using Alex's heroics as inspiration in his battle with terminal cancer; and the Afleet Alex marketing items distributed by owners Cash is King Stable and trainer Tim Ritchey at children's hospitals -- will have to wait for the storytellers and book writers.This is about Afleet Alex the champion 3-year-old and his remarkable accomplishments during a career that somehow seemed rich and full despite being cut way too short by injury. It is at least gratifying in some way to know that the injury in all likelihood was the result of one of the most courageous and athletic feats ever witnessed on a racetrack, or any sports arena for that matter.Although it was an unscripted scene that took only a heartbeat to play out, the images will remain frozen in time. One second, Afleet Alex was flying past his opponents as if moving in a different time frame, and the next he was virtually picking himself up off the ground. Before the brain had time to register what had just happened, and the disaster that was so narrowly and miraculously averted, Afleet Alex was back in stride and charging down the stretch to a decisive victory as if nothing had happened.As everyone who reads newspapers and watches TV knows by now, Afleet Alex clipped the heels of the erratic-running Scrappy T at the top of the stretch in the Preakness Stakes (gr. I), stumbling so badly his nose was inches off the ground. With his front legs spread-eagled, and jockey Jeremy Rose grabbing on to the colt's mane for dear life, Afleet Alex somehow was able to stay on his feet. Most horses would never have recovered, and those that did would have taken a while to regain their composure. But Afleet Alex proved on that day what all those around him already knew: he was not like other horses. He changed leads in a matter of two strides, ran down Scrappy T, and then drew off to win by 4 ¾ lengths, while still turning in one of the fastest final three-sixteenths in Preakness history. The Preakness incident, along with the number of human-interest stories that were a major part of the Afleet Alex story, has somewhat obscured some of the colt's other accomplishments in 2005, several of which deserve their own place in the annals of racing.To demonstrate Afleet Alex's uncanny versatility, checking back over the last 40 years, there was no record found of any horse other than Alex having won the Belmont Stakes (gr. I) and a six-furlong stakes in the same year. And to show how machine-like he was regardless of the distance, he won the 1 ½-mile Belmont by seven lengths with a powerful burst of speed on the far turn, closing his final quarter in :24 2/5, the fastest since Arts and Letters in 1969. In the six-furlong Mountain Valley Stakes at Oaklawn Park, he won by almost three lengths with the same powerful burst of speed on the far turn, closing his final quarter in :24 flat, resulting in a final time of 1:09.52.Regardless of the distance, Alex had the ability to rout his opposition. During his career, he won by 11¼ lengths and 12 lengths going 5 ½ furlongs; by eight lengths going 11/8 miles; and by seven lengths going 1 ½ miles. Another race that has been overshadowed is the Arkansas Derby (gr. II). Despite coming off a last-place finish in the Rebel Stakes (gr. III), the result of a lung infection, Alex crushed his opposition, including eventual Travers (gr. I) winner Flower Alley and eventual Queen's Plate winner Wild Desert, winning by eight lengths. That effort may have proven costly in the Kentucky Derby (gr. I), in which he finished third, beaten a length.Following the Belmont, just when everyone began believing Afleet Alex was indestructible, he suffered a hairline fracture that veterinarians believe was the result of a hidden bruise caused by his acrobatics in the Preakness.With only three graded stakes victories in 2005, the son of Northern Afleet still was able to write a unique chapter in racing lore. There is an Arabian proverb that goes: "The air of heaven is that which blows between a horse's ears." To all those touched by the magic of Afleet Alex, the air of heaven that swirled around him will be felt long after his retirement.Voting for 3-Year-Old Male:
Afleet Alex, 253; Flower Alley, 6; Voter Abstentions, 3.To purchase photographs of this year's Eclipse Award winners, click here.



Copyright © 2015 The Blood-Horse, Inc. All Rights Reserved.