Upswing Continues at Keeneland; Girl Warrior Brings $1 Million
by Deirdre B. Biles
Date Posted: 1/10/2006 11:47:22 AM
Last Updated: 1/16/2006 1:23:03 PM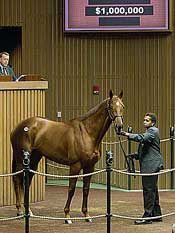 Girl Warrior breaks million dollar mark on second day of sale.
Photo: Anne M. Eberhardt

The surging Thoroughbred market continued to generate impressive figures Tuesday during the second session of Keeneland's January horses of all ages sale in Lexington. Girl Warrior, a grade II-winning mare, sold for $1 million to top the session, which also enjoyed big increases in gross revenue, average, and median from last year."It's exciting, isn't it? It's been solid right through," said Pat Costello of Paramount Sales. "There's no presence of the Arabs here, so it may be that people are thinking they can go in and be able to buy horses. It surprised me how strong the market was all last year, and I think it's just continued on this year."The 246 horses sold grossed $24,626,400, which was an increase of 10.4% from the total of $22,314,500 for the 258 sold in 2005. The average rose 15.7%, from $86,490 to $100,107. The median grew 37.5%, from $40,000 to $55,000. The buy-back rate fell from 22.5% to 18.3%."Horse for horse it's the strongest horse sale we've had in this millennium," said Geoffrey Russell, Keeneland's director of sales. "It's been surprisingly strong. There was a high premium for what the quality was here and a huge premium on young, unbred mares. Girl Warrior, I thought she had the potential to be one of the nice mares here, but I didn't think she would bring that sort of money. She was bought here as a yearling, was a graded stakes winner, and then came back again. It's the circle we like to complete. Hopefully, we'll get to sell her foals now."The cumulative results for the two sessions were 496 horses sold, a gross of $46,999,500, an average of $94,757, and a median of $52,000. The increases compared to 2005 are 23.2% for gross, 26.4% for average, and 30% for median. The buy-back rate was 20% compared to 22.3%.Girl Warrior is the highest-priced horse in the sale so far. Jerre Paxton, a well-known horseman from Washington state, bought the 5-year-old chestnut daughter of Elusive Quality from Costello's Paramount Sales, agent."She's a very attractive individual and a grade II stakes winner by the right sire," Paxton said. "It (the price) was about what I thought it would be."Girl Warrior was described in the Keeneland catalogue as a racing or broodmare prospect, but Paxton said she would not run again. He plans to keep her in Kentucky and breed her. Paxton boards his Bluegrass-based mares at Three Chimneys and Greenfield Farms.Girl Warrior scored in last year's El Encino Stakes (gr. II) at Santa Anita Park and the Miss America Handicap at Golden Gate Fields while racing for Anthony Speelman. She was produced from the winning Marju mare Qhazeenah, who is a half-sister to European group III winner Ranin."It was a great price, more than we thought it would be," said Costello. "But she's a lovely filly physically with more racing left in her, and I think that's what put her over the hump. She has lovely shoulder and a deep girth. She's just a quality, quality filly. She stood out." Solvig, a multiple graded winner, brought $950,000. Rick Abbott, a Pennsylvania bloodstock agent, purchased the 9-year-old dark bay or brown daughter of Caerleon for F. Eugene Dixon's Erdenheim Farm.Solvig is in foal to Smarty Jones . "She'll go home to Pennsylvania to my farm (Charlton) and foal there, so we'll have a Pennsylvania-bred Smarty Jones, and then she'll probably go back to Afleet Alex – at least that's the plan," Abbott said. "Obviously, she was a great race mare, and Mr. Dixon was interested in getting a mare in foal to Smarty Jones. He's the chairman of Pennsylvania's racing commission, which I serve on with him, and he wanted to support the home team. She's worth every penny of it (her price) I think."Solvig captured the Regret (gr. IIIT) and Pucker Up (gr. IIIT) Stakes in 2000 and won three other added-money events. She is out of the Nashwan mare Incha and from the family of such standouts as champion Plugged Nickle, Raja Baba, and Christie Cat."We were thinking $750,000 – pretty much what everybody was – but the way the mares sold yesterday, it was obvious she was going to cost a lot," Abbott said. "I had him (Dixon) on the phone the whole time. When they knocked the hammer down, he said he was sweating blood."Dixon has 18 mares at Claiborne Farm in Kentucky and six mares at Abbott's farm in Pennsylvania.Gainesway consigned Solvig for a dispersal of stock owned by Bentley Smith.Elbaaha, the dam of European group I winner Electrocutionist, was bought back for $1,175,000. The 12-year-old daughter of Arazi was consigned by Indian Creek, agent.Hip-by-Hip Results from Keeneland.com



Copyright © 2015 The Blood-Horse, Inc. All Rights Reserved.