Forward Thinking
by Ray Paulick
Date Posted: 1/10/2006 11:05:01 AM
Last Updated: 1/10/2006 2:56:45 PM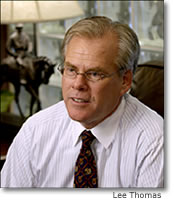 Ray Paulick
Editor-in-Chief


The Breeders' Cup is one of the greatest innovations in the history of horse racing in North America--perhaps throughout the world. It also is one of the industry's biggest shared assets, one that has enjoyed sustained growth. If you are an owner or breeder, it belongs to you. If you're a fan who bets your money on the Breeders' Cup World Thoroughbred Championships, you can claim a fractional interest, too. Funding comes from a broad spectrum: stallion and foal nominations, starting fees, ticket sales, merchandising, and wagering. What the late John Gaines conceived nearly 25 years ago has grown from a single-day event and purse supplement program into an institution, one that does more than crown champions at year's end. The Breeders' Cup has become a vital pillar of industry leadership, one whose top officials recognized the value of a central office for the sport when the National Thoroughbred Racing Association was proposed in 1997. The industry had just been through a rancorous debate over simulcasting rights, and Gaines planned to form an owner-driven league office after enlisting more than 100 of racing's most powerful individuals. He realized a "go-it-alone" initiative wouldn't work, put his own ego aside for the greater good, and threw his support behind the NTRA, a collaborative effort of owners, breeders, and racetracks. At the 1997 Jockey Club Round Table, Gaines spoke eloquently about the "miracle" of trust and cooperation that made the NTRA's formation possible. "Miracles don't spontaneously appear upon the horizon," he said. "Miracles only occur when high-principled, like-minded people form a community and have the common sense to stand on common ground to speak with a common voice, to unite in a common cause, to serve the common good." The industry is better off today because of Gaines' vision to create the Breeders' Cup, and it is better off because of the high-principled, like-minded people who joined Gaines in supporting the NTRA. It is better off because of the insistence of the late William T. Young that the Breeders' Cup and NTRA work more closely together. Since 2000, the two organizations have had a joint operating agreement that, in the opinion of many, has worked to the benefit of both parties. Is there room for improvement? Without question there is. And that's one of the most positive things to emerge from the highly contentious Jan. 8 election of a new Breeders' Cup board of directors--recognition that some motivated, talented, energetic, and forward-looking people want to lend their expertise to ensure the organization is ready for the challenges of the 21st century. WinStar Farm co-owner and Thoroughbred Owners and Breeders Association chairman Bill Casner organized a challenge to the current Breeders' Cup leadership that was ultimately rejected by a vote of the 48 directors charged with electing a new 13-member board. Nevertheless, some of Casner's criticisms will result in an even stronger, more effective Breeders' Cup. That will lead to a better industry. Casner believed decision-making at the Breeders' Cup was the sole propriety of an exclusive club that outsiders couldn't join. That won't be the case under the new governance structure, which sets up the Breeders' Cup more like a business than a trade association with a much more manageably-sized board that includes vital fresh perspectives among some of those elected. Communications must improve, too, which should help subdue the Central Kentucky rumor mill that has poisoned the waters in recent years and created for some an atmosphere of distrust. Communication is a two-way street, however. People have to listen to what is being communicated for the process to really work. Challenges are crossing paths with opportunities. Differences of the past should stay in the past. This is a time for high principles and shared commitments.



Copyright © 2015 The Blood-Horse, Inc. All Rights Reserved.