Breeders' Cup Elects New Board
Date Posted: 1/8/2006 12:50:02 PM
Last Updated: 1/12/2006 6:43:03 PM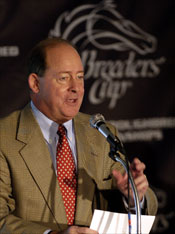 Van Clief: "...changes ensure our company is structured to react and respond to the challenges and opportunities ahead."
Photo: Skip Dickstein

(Edited press release)
The Breeders' Cup 48-member board on Sunday adopted a new set of by-laws and elected a new, streamlined 13-member board of directors.Breeders' Cup president and National Thoroughbred Racing Association commissioner D.G. Van Clief Jr. was added as the board's 14th member. "The major changes in governance implemented today ensure that our company is structured properly to react to our changing business and able to respond quickly and proactively to the challenges and opportunities that lie ahead," Van Clief commented after the meeting.The new by-laws create a board of members and trustees consisting of 46 individuals. Changes to governance grew out of a board retreat last fall and were approved by the full board in November.The leaner board of directors will hold its first meeting in the near future to elect a board chairman and various working committees.Elected were:
-- Antony Beck of Gainesway Farm
-- Robert Clay of Three Chimneys Farm
-- Bill Farish Jr. of Lane's End
-- Tracy Farmer of Shadowlawn Farm
-- Terrence Finley of West Point Thoroughbreds
-- James E. Friess of Claiborne Farm
-- R.D. Hubbard, owner-breeder and racetrack owner
-- B. Wayne Hughes of Spendthrift Farm
-- G. Watts Humphrey Jr. of Shawnee Farm
-- Robert T. Manfuso of Chanceland Farm
-- Ogden Mills Phipps, Jockey Club chairman
-- Satish K. Sanan of Padua Stables
-- Joseph V. Shields Jr. of Shields Thoroughbreds



Copyright © 2015 The Blood-Horse, Inc. All Rights Reserved.