Smith on Breeders' Cup Board Controversy: 'Stability Is Important'
by Ray Paulick
Date Posted: 1/7/2006 3:19:19 PM
Last Updated: 1/8/2006 12:10:10 PM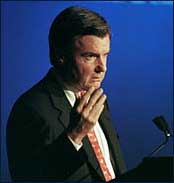 Former NTRA commissioner Tim Smith urges consideration of consequences of apparent division.
Photo: Skip Dickstein

Former National Thoroughbred Racing Association commissioner Tim Smith weighed in on Sunday's election of a new board of directors for Breeders' Cup Ltd., warning participants about the negative impact internal divisiveness could have on the sport's ability to recruit corporate partners and keep those the NTRA/Breeders' Cup already has.Smith, who left the NTRA in July 2004 and for the past year has been heading the public policy organization Friends of New York Racing, spoke in the wake of a published report on
bloodhorse.com that said the election of a slate of individuals being pushed by WinStar Farm co-owner Bill Casner could result in the ouster of Breeders' Cup president D.G. Van Clief Jr. and his management team, and also lead to an end to the joint operating agreement between the Breeders' Cup and NTRA. Casner said suggestions of him "cleaning house" at Breeders' Cup were unfounded, calling it "absolutely a false rumor."Van Clief also serves as commissioner of the NTRA. Casner is chairman of the Thoroughbred Owners and Breeders Association. Casner is pushing a slate of 14 individuals for the 13 spots on the new Breeders' Cup board. Several board members he has spoken with said he is also specifically lobbying against the election of five nominees. There are 19 nominees, with one more expected to be nominated from the floor Sunday morning, when the election is held. Each of the 48 current board members is eligible to vote for up to 13 people (though they will not be required to use all 13 votes). The governance change was approved by the full board in November.Smith, a former PGA Tour and professional tennis officer who was recruited by the late Breeders' Cup founder John Gaines to help create a league office for horse racing, was known as a consensus builder during his time as NTRA commissioner. "By combining their efforts and strengths, the NTRA and Breeders' Cup have vastly improved the exposure of horse racing through sponsorship and television initiatives," Smith said. "My main concern is that this kind of internal divisiveness, if allowed to continue, could produce a loss of confidence in racing's central office on the part of racing's growing list of corporate partners. Stability is important to this marketplace. Those advocating upheaval should consider the potential adverse consequences to the game and industry as a whole."Following the bloodhorse.com report Friday, Casner responded to criticism that he is not bringing a solution to the problems he has cited in his lobbying efforts to take control of the organization. "What we have had is a small group that made all the decisions," Casner said. "I would submit we have a tremendous pool of talent, tremendous tool sets, experience, people who have grown businesses, and this pool of talent has virtually gone untapped. My solution is to open that door to where we can really harness the power of this talent. We can bring many people in our industry to the table and let anyone who wants to be part of the process know that they can be part of the process."Results of the election will be published at bloodhorse.com and may be available as early as Sunday afternoon.



Copyright © 2015 The Blood-Horse, Inc. All Rights Reserved.