Tornado-Damaged Ellis Park to Race in 2006
by Tom LaMarra
Date Posted: 12/29/2005 8:32:06 AM
Last Updated: 12/30/2005 1:30:49 PM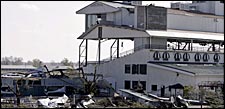 Ellis Park sustained signficant damage from a tornado that hit Nov. 6.
Photo: Associated Press

Though repairs to damage from a Nov. 6 tornado won't be completed by summer, Ellis Park in western Kentucky will conduct its 36-day meet in 2006, parent company Churchill Downs Inc. announced Dec. 28.Plans for all repairs aren't official--CDI is still working out details with its insurance company--but the facility will be ready enough to race live from July 19-Sept. 4. The Kentucky Horse Racing Authority had approved the dates earlier this year."Everybody likes to start the New Year out with a little good news," Churchill Downs president Steve Sexton said.Repairs are under way on the grandstand roof, racing office, and several barns damaged by high winds. Plans to fix the paddock, jockeys' quarters, and safety rail are in the development stages, officials said.The tornado destroyed 11 barns as well as the grandstand "Turf Terrace," an older wooden grandstand that offered tiered seating adjacent the paddock. The status of those repairs is uncertain.John Asher, vice president of communications for Churchill Downs, indicated Ellis Park would have enough stall space even if all the barns aren't rebuilt. Before the storm, the track had stalls for 1,100 horses; currently, there's room for about 800 horses, about the number that was on the grounds for the 2005 meet.Sexton said there would be room for close to the same number because the receiving barn can hold about 50 horses. Horses regularly ship in from other facilities in Kentucky, Indiana, and Illinois.Sexton said it was important to make the announcement on 2006 racing so employees and horsemen could plan accordingly. When asked about long-term plans for Ellis Park, Sexton said CDI would "take it one year at a time.""It is important for everyone concerned that we be thorough in both our assessment of storm damage at Ellis Park and our planning for its future," he said. "There are several key business factors that must be considered, including the continued maturity of casino and off-track betting competition in the local market, and prospects for legislation in the 2006 Kentucky General Assembly that could allow for additional gaming at racetracks."A coalition of horse interests led by the Kentucky Equine Education Project plans to push for a constitutional amendment on racetrack gaming. It's expected the legislation will be made public early in the General Assembly session that begins Jan. 3.No humans were seriously injured in the tornado, though three Thoroughbreds were killed. Simulcast operations at Ellis Park resumed Nov. 16 after damage to the clubhouse was repaired.



Copyright © 2015 The Blood-Horse, Inc. All Rights Reserved.