Pataki Offers Last-Ditch Plan to Assist NYRA
by Tom Precious
Date Posted: 12/28/2005 12:39:11 PM
Last Updated: 12/30/2005 3:51:06 PM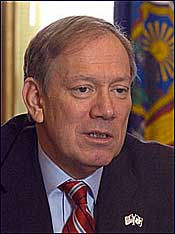 New York Gov. George Pataki
Photo: Associated Press

New York Gov. George Pataki is offering $10 million in immediate aid to help keep the ailing New York Racing Association from insolvency, and he pledged to work with legislators on another measure to lend NYRA cash against its future gaming proceeds.NYRA officials have been threatening to put the association under bankruptcy protection as a way to help its ongoing cash-flow crisis. NYRA holds the franchise to operate Aqueduct, Belmont Park, and Saratoga.Pataki's deal would include a previous $5-million offer by the Port Authority of New York and New Jersey to purchase land around Aqueduct. An additional $5 million would be in the form of a loan provided by the state's Empire State Development Corp., which would be given only if NYRA assured the state it would continue racing in 2006.None of the funding could go to what state officials described as any "entertainment" expenses by NYRA officials. NYRA officials couldn't be immediately reached for comment.A Pataki administration official, speaking on condition of anonymity, said the governor would also work to advance a plan similar to one recently proposed by Senate Majority Leader Joseph Bruno to provide as-needed cash advances to NYRA, with the money repaid from future video lottery terminal revenue from a casino expected to open at Aqueduct within the next year.Bruno, who represents Saratoga Springs, called for a $30-million state loan fund for NYRA and proposed the state drastically speed up its process for awarding a new franchise for Thoroughbred racing in New York. The NYRA franchise expires at the end of 2007.Bruno has talked of trying to award a new franchise in the next six months--an ambitious timetable given the many political and legal twists involved.Bruno called for $7 million up front, with another $23 million available to NYRA over the next year. The Pataki plan envisions the $5 million from the land sale and a $5-million loan. Administration officials described the latest plan as a last-ditch effort to help NYRA."After months of trying to help them overcome their own financial problems, we're making one more effort to help NYRA address its short-term fiscal problems and help ensure the long-term viability of Thoroughbred racing in New York," a Pataki administration source said the evening of Dec. 27. "But as we all know, you can lead a horse to water, but you can't make it drink."



Copyright © 2015 The Blood-Horse, Inc. All Rights Reserved.