International Horseman Michael Osborne Dies at Age 71
by Blood-Horse Staff
Date Posted: 12/22/2005 1:09:33 PM
Last Updated: 12/24/2005 4:55:09 PM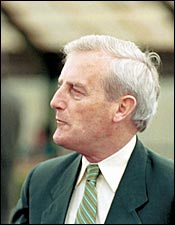 International horseman Michael Osborne, has died at age 71.
Photo: Irish National Stud

Edited release from Racenews
Michael Osborne, former manager of North Ridge Farm and a leading figure in International racing and breeding, has died after a short illness at the age of 71.A former managing director of the Irish National Stud, he was the man chosen by Sheikh Mohammed first to build up the sheikh's stud farm operations in Ireland and then to establish international racing in Dubai. It was Osborne who, as chief executive of the Emirates Racing Association, supervised the construction of the first Nad Al Sheba grandstand and managed the successful launch of the world's richest race, the Dubai World Cup.All the jockeys riding at Nad Al Sheba on Thursday evening wore black armbands as a mark of respect for Osborne.A native of Naas, Co Kildare, Osborne also played a pivotal role in many of the major developments in Irish racing over the past twenty years. A former director of the Irish Horseracing Authority and Horseracing Ireland as well as a past chairman of Punchestown Racecourse, at the time of his death he was chairman of the Curragh Racecourse and Training Grounds.One of the most respected advocates of the value of international racing, he offered advice on the development of racing and equestrian industries in a host of countries, including Singapore, China, Korea, Bahrain, Iran, Kuwait, Portugal and Sweden. Earlier this year, he took on the chairmanship of the World Racing Championships and had been working on proposals to revamp the World Racing Series.A veterinarian who worked in private practice for 12 years before joining the National Stud in 1970, Osborne was a past president of the Irish Veterinary Association and was a great supporter of the Association's Benevolent Fund. He had the distinction of being the first Irishman to be made an honorary member of the Jockey Club. Earlier this year, he was conferred with an honorary science doctorate by the National University of Ireland, Maynooth, while he was also a Freeman of Naas.After leaving the National Stud and before going to work for Sheikh Mohammed, Osborne managed North Ridge in Lexington, Ky.Paying tribute today, Sheikh Mohammed said: "Michael was a wonderful man. My thoughts and sympathy are with his family. We had some marvellous time together and I will always remember the great work that he did. He was a hugely influential figure in world racing. It was Michael who established the Dubai World Cup as a great international race. "Michael always had enormous enthusiasm - for horses, for Ireland and for Dubai. Nearly 20 years ago, he was the one who bought Kildangan Stud for me. He really loved the farm and it is fitting that he is going to be laid to rest in the graveyard at Kildangan." Brian Kavanagh, chief executive of Horseracing Ireland said: "Michael Osborne was Ireland's foremost international racing figure of recent times. Over four decades he occupied every significant role in the Irish racing and breeding industries and set new standards of excellence in every position he filled. His outstanding quality was his ability to relate to and work with people of all ages and backgrounds. His unique talents and enthusiasm saw him succeed wherever he operated and throughout the racing and breeding world his legacy will endure for a very long time."He carried out all of his roles and responsibilities with characteristic integrity, good humour and modesty. Michael brought great distinction to Irish racing. Literally hundreds of people at senior levels of the racing and breeding industries worldwide owe their positions to Michael Osborne and the start that he gave them. While his career records a lifetime of achievement, his loss will be most keenly felt by his family who have been a tower of strength through his recent illness."John Williams, former general manager at Spendthrift Farm who became a close friend of Michael Osborne and his family during their time in the U.S., said: "Michael was a lovely man - he meant so much to me and to so many people in the US and elsewhere. He touched so many, many people. The things he did just spread exponentially. I called him once when I needed help and he sent some people across to me who were just fantastic. In doing that, not only did he help me but he helped all of those people too and they went on to be very, very successful in the horse business. That's the sort of man he was. He did amazing things for people."The funeral service for Michael Osborne will take place Thursday evening with the remains arriving at St Brigid's Church in Kildare to be followed by Requiem Mass Friday.



Copyright © 2015 The Blood-Horse, Inc. All Rights Reserved.