New York Lawmaker Calls for Creation of Fund to Help NYRA
by Tom Precious
Date Posted: 12/20/2005 2:28:17 PM
Last Updated: 12/22/2005 6:03:27 PM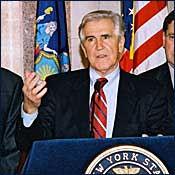 New York Senate Majority Leader Joseph Bruno
Photo: File

New York's top Republican in the state legislature has called for the creation of a $30-million state fund to help the New York Racing Association overcome its financial crisis while the state speeds up the process to award a new Thoroughbred franchise.The plan by Senate Majority Leader Joseph Bruno, outlined in a Dec. 20 letter to Gov. George Pataki, comes as NYRA is threatening to declare bankruptcy or shut down racing if the state doesn't help it take steps to deal with its cash-flow problems.Bruno proposed the $30 million be provided to a new state board overseeing NYRA. He said $7 million should go to help NYRA with its immediate cash problems in order to continue racing and prevent bankruptcy. The other $23 million would be available to the oversight board to advance to NYRA in the future during the upcoming request-for-proposal process that will be under way next year to award a new franchise for Aqueduct, Belmont Park, and Saratoga.Bruno told Pataki it is "imperative'' to take immediate action to help NYRA. Failure to help NYRA meet its financial obligations "may seriously impede the successful continuance and growth of New York's Thoroughbred racing industry," he said.Calls to NYRA and the Pataki administration were not immediately returned.The Bruno proposal came after the Port Authority of New York and New Jersey was given the green light by the Pataki administration to spend up to $5 million for land near Aqueduct NYRA claims to own. But Bruno has criticized the proposal as offering too little to solve NYRA's fiscal dilemma.Bruno stressed the $30 million would not be a bailout, and that NYRA would need to repay the money. Officials said NYRA will be in better fiscal health when it gets its video lottery terminal casino open at Aqueduct, possibly by the end of next year. Bruno's plan called for NYRA to provide documentation for the need for any of the state funding before it is sent NYRA's way.As he has been urging for months, Bruno again said the state must expedite the RFP process for a new Thoroughbred franchise. Still undecided, however, are such sticky issues as who owns the land upon which the tracks sit. NYRA believes it controls the land regardless of whether or not it wins a franchise; the state said the land goes to whoever holds the franchise.Bruno told Pataki the NYRA fiscal crisis "threatens both the high quality racing which has become synonymous with New York Thoroughbred racing and the livelihood of thousands of New Yorkers who play an integral role in the state's racing industry.''



Copyright © 2015 The Blood-Horse, Inc. All Rights Reserved.