New York Upholds 45-Day Suspension for Pletcher
by Tom Precious
Date Posted: 12/15/2005 2:07:24 PM
Last Updated: 12/19/2005 10:26:06 AM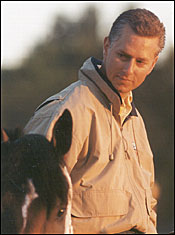 NY racing board upholds Pletcher suspension.
Photo: Barbara D. Livingston

Trainer Todd Pletcher, who recently set a single-season record for earnings, was suspended for 45 days by New York regulators Dec. 15 for a banned substance found in one of his horses that raced a year ago at Saratoga.The suspension, as well as a $3,000 fine, had been on appeal by Pletcher. But his appeal was rejected by a hearing officer, and the New York State Racing and Wagering Board upheld the suspension."It came down to fact versus a presentation of hypotheticals," said racing board commissioner Michael Hoblock.The horse, Tales of Glory, was found to have mepivacaine, a local anesthetic, in his system after the third race at Saratoga Aug. 14, 2004. "It's a powerful substance that can block a nerve," racing board chairwoman Cheryl Buley said. "We have to take that very seriously."The horse finished first but was later ruled unplaced. Buley said even if the administration was inadvertent, the same suspension would have been given."We need to uphold the integrity of racing," Buley said.Pletcher, the 2004 Eclipse Award-winning trainer, earlier this fall broke the all-time earnings record of $19,147,129 set by Bobby Frankel in 2003. Pletcher can appeal the board's decision in court. The trainer's lawyer, John T. Behrendt, declined comment because the racing board has not yet sent him a copy of the decision.Mepivacaine is classified by the Association of Racing Commissioners International as a Class 2 drug, meaning it has a high potential to affect performance. Racing regulators said a veterinarian determined the drug had been administered to the horse within a prohibited seven-day period prior to the race.Buley said stewards would determine when the suspension would begin. "But I would think imminently, and on days when he would have been racing," she said.Buley said the board would also ensure Pletcher doesn't perform any work through any other trainers during the suspension period.



Copyright © 2015 The Blood-Horse, Inc. All Rights Reserved.