Alinghi's Career in Doubt Due to Tendon Injury
by Ric Chapman
Date Posted: 12/8/2005 8:10:44 AM
Last Updated: 12/10/2005 1:28:09 PM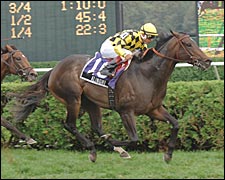 Alinghi was impressive in the Ballston Spa Breeders' Cup in her U.S. debut.
Photo: NYRA/Adam Coglianese

The immediate racing career of Australian champion filly Alinghi is in doubt after she suffered a tendon injury during a workout at Hollywood Park.The injury occurred while the filly was working impressively in anticipation of a winning return to racing at Santa Anita later this month in the grade III Monrovia Handicap.Now the owners must decide whether to return her immediately to Australia to be mated for the domestic breeding season or leave her in the United States for a return to the racetrack."This is very disappointing after the effort put in by all concerned to show what Alinghi could do on the world stage. I will consult with our other partners and decide exactly where we go from here," said Arrowfield Stud chairman John Messara. "Obviously sending Alinghi to the breeding barn without any further racing becomes a realistic option now -- she's just too special to mess around with unless we get strong veterinary advice to the contrary."Initial vet reports indicate that she will need a few months' rest prior to returning to the racetrack. She is only a 4-year-old by Australian standards so she could very well miss this year's season. If she were to be mated, she would go to Australia's wonder stallion Redoute's Choice.The Aussie-bred filly was extremely impressive in her stateside debut, running past a nice field of fillies and mares in the Ballston Spa Breeders' Cup Handicap (gr. IIIT) at Saratoga. Facing males in the Shadwell Turf Mile (gr IT) at Keeneland, she finished eighth in the 10-horse field.



Copyright © 2015 The Blood-Horse, Inc. All Rights Reserved.