Calif. Trainers Protest Poor Track Surfaces
by Jack Shinar
Date Posted: 12/2/2005 1:52:25 AM
Last Updated: 12/4/2005 3:12:12 PM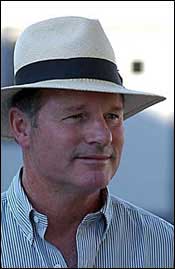 Hall of Fame trainer Richard Mandella, addressed the California Horse Racing Board over the issue of track surfaces.
Photo: Anne M. Eberhardt

Track operators pledged their support to improving the conditions of racing surfaces in the state after about 25 trainers descended on the California Horse Racing Board meeting Dec. 1 at Hollywood Park to seek the commission's assistance.Representatives from Del Mar Thoroughbred Club and Bay Meadows Land Company -- which also owns Hollywood Park -- say they are planning on the eventual installation of Polytrack surfaces to replace their dirt courses.In a cordial confrontation, trainers blamed track surfaces for the decline of field sizes and the enormous problem of breakdowns. The issue has been brewing for some time and the trainers came to the CHRB after meeting with officials of Magna Entertainment Corporation Nov. 29 about Santa Anita's track."I don't think there's a secret about the track situation here," trainer Richard Mandella told the CHRB. "We get it all the time. Eastern owners don't want to send their horses out here because it's too difficult to get horses to the races."Mandella called conversion to Polytrack "the future to really turn our game around."Trainers, led by track committee chairman Howard Zucker, came away from the CHRB meeting with an acknowledgement of the problem from the board and a pledge for immediate improvements from representatives of the state's two major track owners, Magna Entertainment and Bay Meadows Land, as well as Del Mar.Zucker called for more Polytrack surfaces, noting that in places where it is used "injuries have dropped tremendously and bone injuries are practically non-existent."Ron Charles, president of California racing for MEC, stopped short of committing to Polytrack, but noted, "I can tell you we are absolutely committed, in both the short term and the long term, to a safer racing surface (for the upcoming winter/spring meeting)."Perhaps Magna has been a little slow to respond to this," Charles added. "But we're committed to making our track kinder. I always say you can't market a bad product. Four, five, and six-horse fields make a bad product."Drew Couto, president of the Thoroughbred Owners of California, reminded the board that BMLC had made a commitment to install a Polytrack surface at Hollywood Park if it received a guarantee of sufficient race dates for the next three years.Jack Liebau, who is in charge of racing for Bay Meadows and Hollywood Park, while noting that he isn't responsible for making the decision, said BMLC is working toward that goal. In the case of Hollywood Park, he noted that 20,000 tons of sand would be needed for the project but he would like to see it done as soon as possible."We are proceeding with all deliberate speed," Liebau said. "This is a project we all should get behind."Likewise, Craig Fravel, executive vice president of Del Mar, said he is convinced that Polytrack "will save lives of horses and humans."This is something for the near long-term (at Del Mar)," he said. Dr. Rick Arthur, a board member with the Oak Tree Racing Association, estimated that the state is losing 130 horses a month to lost training time and others shipping out because of the threat of injury. He suggested that a track would make back its financial commitment to Polytrack within a few years through better handle that would result from a larger horse population and less track maintenance. "The half-life of a horse running in California is 12 months," Arthur said. "The attrition rate is phenomenal."Trainer Eoin Harty, in a letter to commissioner Richard Shapiro, noted that of 49 horses he had in training in California this year, only six would return next season. He said that his major client, Sheikh Mohammed bin Rashid al Maktoum, has refused to run his horses in California. Another client, Aaron and Marie Jones, returned to run horses in the state this year and six of the eight Harty trained for them were injured."The numbers are staggering," he wrote.Other trainers noted similar problems."Over the past five years, I haven't gotten one horse (to ship from the east)," David Hofmans said. "When I ask why, they say, of course, 'it's the racetracks.'"People want to come here and race in California," he added. "But they won't because of the track problems."Jenine Sahadi said that Polytrack may be the long-range solution, but she wanted something done immediately."I think each track needs to address its problems right now," she said. "Our cards are garbage. It's an embarrassment to come out to the track. I'm totally in favor of Polytrack but in 1 ½ or two years, it may be too late."CHRB chairman John Harris appointed commissioners Shapiro and Jerry Moss to head an industry committee to closely monitor the progress of track improvements.In other action, the commission approved by a 5-2 vote the transfer of up to $166,000 from Hollywood Park commissions to Golden Gate Fields purses to enhance the value of selected turf races at the Northern California track. The agreement was worked out between Hollywood Park officials and the Thoroughbred Owners of California after Hollywood was forced to abandon turf racing at its current fall-winter meeting because the recently planted course had failed to properly take root.Harris and commissioner John Andreini voted against the motion, which required the waiver of a provision of a state law restricting the transfer of purses between tracks. Under the agreement, Hollywood Park also pays for the shipping costs of Southern California horses to Golden Gate.Commissioners elected Shapiro to take over as the CHRB chairman in 2006 while Marie Moretti was elected vice chair.



Copyright © 2015 The Blood-Horse, Inc. All Rights Reserved.