Pataki Names New Head of New York State Racing and Wagering Board
by Tom Precious
Date Posted: 11/30/2005 1:15:07 PM
Last Updated: 12/2/2005 2:33:46 PM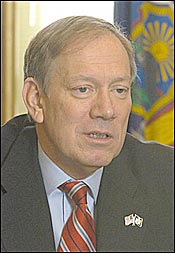 New York Gov. George Pataki, selected a new chairman for the state regulatory body.
Photo: Associated Press

New York Gov. George Pataki, after a day of intrigue at the state Capitol over the leadership of the state's racing regulatory agency, has relieved Michael Hoblock of his duties as chairman of the state Racing and Wagering Board.Replacing Hoblock, who has held the position for eight years, is the board's only other commissioner, Cheryl Buley."Mr. Hoblock has indicated to us his desire to leave the Board and we expect him to resign in the very near future, and at this point he is weighing his career options. Effective immediately, he has been relieved of his duties as chairman, and Cheryl Buley is now acting chair of the Racing and Wagering Board," said Saleem Cheeks, a Pataki spokesman.The decision came after sources in state government said Pataki was trying to replace Hoblock with Bernadette Castro, his current parks commissioner. Castro is a close Pataki loyalist, and racing insiders say they believe Pataki wants her in place as a number of major racing issues are coming up in the next year, notably the beginning of the process to decide whether to replace the New York Racing Association as the franchise holder of Aqueduct, Belmont, and Saratoga racetracks. Castro is already a member of a new state panel overseeing the three-track racing franchise, which expires for NYRA at the end of 2007.Hoblock and Buley did not return calls for comment. Hoblock does not have to resign; unlike many state agency heads, he does not technically serve at the pleasure of the governor. He was appointed to a term that does not expire until 2008.Senate Republicans were said to be angry that their choice to fill a long-empty seat at the racing board -- John Simoni of Saratoga County -- was going to be appointed for just two years while Castro would have been named to a six-year term.By the end of the day Tuesday, after the Senate met in a special session to consider dozens of appointments to other agencies, neither Castro nor Simoni were appointed. Sources said the appointments were impossible because Hoblock refused to resign, though he had been offered other jobs in the Pataki administration. The Senate is not due back in Albany until January."We have some confusion," Senate Majority Leader Joseph Bruno, who was backing Simoni for a board slot, said of the day's wrangling over the racing agency.Before Pataki's office officially announced the Hoblock removal, Bruno declined to comment when asked if he thought Hoblock should be replaced. "Mike's been a good friend," Bruno said. "I think Mike deserves all the respect of his previous service and current services."



Copyright © 2015 The Blood-Horse, Inc. All Rights Reserved.