Long Turfway Park Season is 'Polytrack II'
by Tom LaMarra
Date Posted: 11/22/2005 2:03:01 PM
Last Updated: 11/25/2005 11:34:26 AM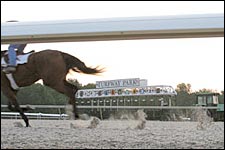 A horse works at Turfway Park over the Polytrack surface, which will get its first sustained workout during the fall and winter meets.
Photo: Pat Lang

Turfway Park will get a more accurate indication of how its synthetic Polytrack will play during four months of fall and winter racing that begins Nov. 27, opening day of the holiday meet.Polytrack, a combination of polypropylene fibers, recycled rubber, and silica sand coated in wax, debuted at Turfway for its short late summer/early fall meet. Martin Collins, who developed Polytrack, said no two surfaces are the same; the Turfway surface was designed for winter racing.In September, temperatures were quite warm and there wasn't much rain. Collins at the time said kickback would lessen as the track became more established. "It's going to mature and will get better," he said of the Turfway surface.The surface, which features a state-of-the-art vertical drainage system, actually gets better when wet, according to reports. After 3 1/2 inches of rain one day the week of Nov. 14, "the track was just perfect," Turfway president Bob Elliston said. "It's almost as if the more rain we get, the better the surface is."The true test will come with snow and ice. Turfway officials hope the synthetic surface proves safer and helps reduce the number of cancellations.Intrigue with Polytrack and closure of Fair Grounds this winter because of damage from Hurricane Katrina helped fuel an increase in demand for stalls at Turfway. The track can accommodate 920 horses; 1,700-1,800 stall applications were received, Elliston said."It seems our product is in demand," Elliston said. "We're pretty excited about the upcoming meet."Racing for the 25-day meet will be held Wednesdays, Thursdays, and Fridays at 5:30 p.m. EST, and Saturdays and Sundays at 1:10 p.m. Turfway will be closed Christmas Eve and Christmas Day, then reopen Dec. 26 for six consecutive days of racing with post time at 1:10.The winter/spring meet will begin Jan. 1 and run through early April. In the past, weeknight racing has started at 5:30, though post times and specific racing days haven't been announced. Horsemen said they continue to hear rumors of a switch to day racing with the exception of Fridays.The holiday meet will offer five $50,000 stakes. Daily average purses usually fall in the $140,000-$150,000 range for the holiday and winter/spring meets. Should racetrack casino gambling ever become a reality in Kentucky, Turfway purses are projected to average about $530,000 a day.



Copyright © 2015 The Blood-Horse, Inc. All Rights Reserved.