State Says NYRA Artwork Not Approved for Sale
by Tom Precious
Date Posted: 11/16/2005 11:26:33 AM
Last Updated: 11/17/2005 2:32:03 PM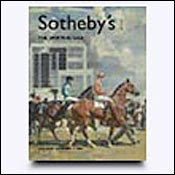 Catalogue cover for Sotheby's sale featuring artwork owned by NYRA.


New York state is threatening legal action against the New York Racing Association and the auction house planning to sell NYRA artwork because it claims it hasn't signed off on the sale of the equine art collection.The planned Dec. 2 auction by Southeby's in Manhattan is expected to raise $2 million for NYRA, which is in a cash-flow crisis. NYRA has said it was given the artwork years ago by benefactors, and that its sale can proceed without state approval.NYRA plans to sell 19 pieces of artwork at the auction."The New York State Racing and Wagering Board objects to this unauthorized sale of state assets and requests that the art be removed from sale until such time that NYRA has applied for and received requisite approvals," wrote NYSRWB chairman Hoblock to NYRA president Charles Hayward. The letter, a copy of which was obtained by The Blood-Horse, was written Nov. 15 and copied to Sotheby's.In the two-paragraph letter, Hoblock said he wants confirmation by Nov. 17 that the artwork will not be sold. If not, he wrote: "The board is prepared to engage the services of the New York state Attorney General to seek injunctive relief against NYRA and Sotheby's to ensure that the pieces are not improperly sold."Hoblock was not available for an interview, a board spokesman said. NYRA officials couldn't be immediately reached for comment.A spokesman with the new NYRA oversight board, created this year to monitor NYRA finances, declined an immediate comment.



Copyright © 2015 The Blood-Horse, Inc. All Rights Reserved.