Jockeys Boot Gertmenian; Haire Temporarily in Charge
by Amy Whitfield
Date Posted: 11/15/2005 9:07:13 PM
Last Updated: 11/17/2005 11:00:09 AM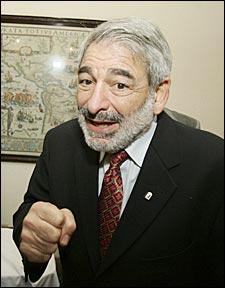 Dr. Wayne Gertmenian, ousted as Jockeys' Guild president.
Photo: Tim Sharp

Jockeys took back the reins of the Jockeys' Guild Tuesday when they voted to remove Guild president Dr. Wayne Gertmenian from his post, terminate the Guild's relationship with Gertmenian's consulting firm, Matrix Capital Associates, and appoint Guild national member representative Darrell Haire as temporary national manager of the organization.The overhaul, which includes the termination of vice president Albert Fiss and Lloyd Ownbey as the Guild's general counsel, comes nearly a month after a Congressional subcommittee hearing at which Gertmenian's management of the Guild was severely scrutinized and lawmakers labeled him a "disgrace." It came less than a week after more than 200 jockeys at 12 racetracks signed petitions calling for the removal of the Guild's chief executive, and Haire, a one-time staunch supporter of Gertmenian, issued a statement calling for his resignation.Eleven Guild senate members called for Tuesday's emergency meeting to consider the removal of the organization's current board of directors, elect a new board, and oust Gertmenian, in light of testimony given in the Oct. 18 hearing held by the House Energy and Commerce Subcommittee on Oversight and Investigations in Washington, D.C.Guild bylaws permit an emergency meeting when called for by at least nine of the 27 members of the Guild senate.According the senate members, the meeting was prompted by one "mismanagement issue" in particular: the failure of Guild management to notify members the organization's $1-million catastrophic insurance policy for jockeys had lapsed. At the end of the 2 1/2-hour emergency meeting, details of which came in a release, new senators were elected to the board of directors on an interim basis until the Guild's annual assembly, which was scheduled for December but postponed. Elected to the board were: chairman John Velazquez; vice chair Tomey Jean Swan; secretary Alex Solis; and treasurer Jeff Johnston. At-large directors are Mike Luzzi, G.R. Carter, Jerry LaSala, Larry Reynolds, and Jon Court.The new board of directors then went into closed session to decide the fate of Gertmenian. In addition to firing Gertmenian and appointing Haire as his temporary replacement, the board appointed Barry Broad and Tom Kennedy as temporary co-counsels on a volunteer basis, pending their agreement, according to a Guild release. The co-counsels were directed to send a letter of termination to Gertmenian, Matrix, and Ownbey.The board also entrusted Haire with coming up with a "recovery plan" in his new manager position.Gertmenian and his consulting firm, Matrix Capital Associates, were hired in 2001 to replace former national manager John Giovanni.



Copyright © 2015 The Blood-Horse, Inc. All Rights Reserved.