Gertmenian: 'It Has to Go on Somebody's Head'
Updated: Tuesday, November 15, 2005 5:26 PM
Posted: Sunday, November 13, 2005 7:15 PM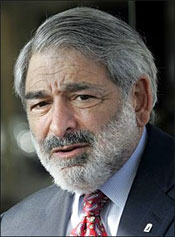 Photo: Associated Press
Gertmenian vows to honor promise not to quit over controversy.
By Tom LaMarra and Amy Whitfield
As members of the Jockeys' Guild senate attempt to get a handle on the organization's financial situation and prepare for a possible vote on a management change, embattled president Dr. Wayne Gertmenian indicated he intended to follow through on a promise to Guild members that he wouldn't quit.The Guild senate will meet Nov. 15 to tackle the issue of Gertmenian and his company, Matrix Capital Associates, which was brought in to run the Guild in 2001. In December 2004, the Guild board of directors extended the Matrix contract for five years, but in less than a year, the tide has turned. More than 200 members have called for Gertmenian's ouster, as has national member representative Darrell Haire, formerly a supporter of the management regime.Barry Broad, who recently resigned as a Guild attorney but remains an advocate for jockeys, confirmed that members of the 27-person senate must first vote to change the bylaws to remove the current nine-member board. Then it can elect a new board that would make the decision on the management contract.The shift began in earnest after an Oct. 18 Congressional subcommittee hearing at which Guild management was blasted and Gertmenian's resume called into question. Another hearing into jockey health and welfare issues is slated for Nov. 17.When asked by
The Blood-Horse
if he planned to step down, Gertmenian said: "I promised everybody as I went around the country the heat would fall on my head and I wouldn't quit. Right now, I think they want me to. But with all the injury that has occurred and not having the money to have an effective union, they get frightened. It has to go on somebody's head."It saddens me we haven't been able to get the problems solved, but I still think we've made exceptional progress. We've doubled the size of the Guild, but when you're adding new members, you're adding cost without revenue. For a while, you do the best you can, and when you run out of money, people get discouraged."I guess they'll destroy the leadership and start over. We came in under the same fire and anger, and kept it alive for four years."Matrix was brought in after some members of the Guild board voted during a conference call to oust national manager John Giovanni, who was gone the following day. The Lexington office was shuttered and the operation moved to Southern California.Details of the Guild's financial situation are sketchy, though Jeff Johnston, a Kentucky-based rider elected to the post of treasurer last December, only recently began an internal audit. The annual assembly scheduled for Dec. 4-6 in Dallas has been postponed, Johnston said, and given the "turmoil in the ranks," he thought it was necessary to closely monitor finances.When asked if the Guild had run out of money, Johnston said: "There is money in the account, and there is money on hold from different states, but everyone must understand the Jockeys' Guild fronts money to pay for a lot of riders' health premiums that are supposed to paid for by the states. But until that money is released from the states, the Guild puts all that money up front."Johnston said the Guild is owed money from California for 2004 to pay for California jockeys' health insurance premiums. He said the system of paying up front and waiting for revenue is nothing new."It may have something to do with the (Congressional hearings), but the timing issue has always been a problem," Johnston said. "I don't know if it has been longer this time than usual, because they're waiting to see what happens in the hearing. But it's nothing new. This has been an ongoing problem, and it hampers the financial stability of the Guild."Johnston said he's particularly concerned about the disabled riders who "live week to week" and wait for checks or prescription reimbursements."These are people that gave their life to the industry and thought they were protected, thought the racetracks were giving money to the Guild to keep them going," he said. "They are the ones that are suffering. I won't give up. There's a lot of work to be done to better assess the situation we're in and try to plead for any changes to be made to protect our disabled members."When states hold this money back because they think there are problems with the management team, it's not only putting a hamper on their day-to-day activities, but it's really hurting our disabled members who depend on these checks to go out on a weekly basis."Gertmenian said he knew about the new financial controls. He said he didn't know how much money hadn't been received from Thoroughbred Racing Associations-member racetracks this year as part of a verbal agreement to help pay insurance costs, but did say Churchill Downs Inc. didn't send money this year."I am aware of the fact they've asked us not to be spending money until the board has looked at expenditures," Gertmenian said. "I don't think that's unreasonable. Everybody is doing the best they can. You're not hearing any anger out of me."The next Congressional hearing will look more closely at on-track injury insurance for jockeys and include testimony from racetrack representatives. Guild vice chairman John Velaszquez, one of the jockeys calling for change, issued a statement thanking U.S. Representatives Ed Whitfield of Kentucky and Bart Stupak of Michigan, the chair and ranking minority member, respectively, of the Subcommittee on Oversight and Investigations under the House Committee on Energy and Commerce, for conducting the hearings and for sending letters to federal agencies concerning jockeys' working conditions."I know I speak for jockeys all over this country in expressing my gratitude for Congress' interest in helping to improve the health and safety conditions in the horseracing industry and for bringing to public attention to possible mismanagement of the Guild," Velazquez said. "We look forward to working with the subcommittee as it moves forward with its inquiry."Gertmenian, who testified during the Oct. 18 hearing, didn't comment extensively on the Congressional inquiry. He did, however, indicate he was dismayed to be told at the hearing part of his resume was fabricated. Lawmakers said they were unable to find evidence Gertmenian served in the presidential administrations of Richard Nixon and Gerald Ford, and they asked for documentation."If somebody tells you that you don't have a foot, you don't take off your shoe to see if the foot is there," Gertmenian said.Gertmenian said the recent attacks on the Guild weren't unexpected. "This is the most difficult challenge I have ever faced in my life to help these folks," he said. "It's very hard to come in and solve the problem without money, and then they accuse you of being irresponsible."
FREE! E-Newsletters from The Blood-Horse!...
Follow the top stories of major racing events, racing previews and results with FREE e-newsletters from bloodhorse.com. As news develops, we'll deliver updates to your inbox. Follow important events moment by moment, step by step!