Alice Headley Chandler Honored by Thoroughbred Club of America
by Ray Paulick
Date Posted: 11/6/2005 11:02:33 AM
Last Updated: 11/7/2005 9:47:32 AM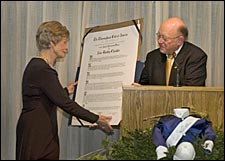 Alice Chandler, left, is presented a scroll by Thoroughbred Club of America historian and director Edward L. Bowen.
Photo: Bill Straus

Keeneland president Nick Nicholson called Alice Headley Chandler "a leader in an industry that desperately needs leadership" in his introductory remarks describing the honor guest at the Thoroughbred Club of America's 74th annual testimonial dinner.The dinner was held Nov. 5 at Keeneland, the Lexington racetrack founded by Chandler's father, the late Hal Price Headley, who was the TCA's 10th honor guest in 1941. She is only the third female honor guest, joining Mrs. Payne Whitney (1939) and Isabel Dodge Sloane (1951).Chandler, who developed Mill Ridge Farm into an internationally recognized operation from the 286 acres left to her when her father died of a heart attack in 1962, has served in numerous leadership positions, including chair of the University of Kentucky's Maxwell Gluck Equine Research Center, the Kentucky State Racing Commission, the Kentucky Thoroughbred Association, the Thoroughbred Owners and Breeders Association, Keeneland, and the Breeders' Cup. Keeneland chairman James E. "Ted" Bassett III cited her "unwavering support for the traditional values which have made our industry so unique." Keeneland trustee Louis Lee Haggin III wrote of her "work ethic that is legendary and a standard of excellence that is second to none."Helen Alexander of Kentucky's Middlebrook Farm pointed out that the breakthrough victory by Sir Ivor in the 1968 Epsom Derby "helped demonstrate that American-bred horses could stand up to the best in the world. This was not always as widely accepted as it has become since then...I would think that Hal Price Headley would be proud, bemused – perhaps even overwhelmed – to know that his daughter had a stallion at Mill Ridge which had sired three winners of the English Oaks!"Ann and Jerry Moss, whose 2005 Kentucky Derby (gr. I) winner Giacomo was foaled and raised by Chandler and her staff, said they "bless the day we came to Mill Ridge." Giacomo's trainer, John Shirreffs, who is seldom seen without a Mill Ridge cap on his head, said, "Alice Chandler does it right. Her standards and attention to detail are special. The Mill Ridge cap symbolizes for me the finest quality of horsemanship, the price of being a craftsman, the patience of a shepherd, and the creativity of an artist."French breeder Charles-Henri de Moussac called her "open" and "trustworthy," then may have paid the greatest compliment of all: "At a time where a lot of people in our industry are only concerned by economics, Alice put always the well being of horses first."When it was her turn to speak, Chandler began by saying, "Once upon a time there was born a little girl who loved horses..." She told of her adventures and misadventures as a young girl, one whose father never told her, "Don't do it, you might get hurt." She recalled her childhood pony and their exploits together, her late-night solo drive into downtown Lexington – as an 8-year-old – and a craps game with the farm help where she won a car and $600, only to have to give her winnings back when she told her father.Chandler talked about the beginnings of Mill Ridge, where she downplayed the fact she was trying to compete in what traditionally had been a man's world. "If the boy-girl thing was ever an issue," she said, "It was only in the beginning when I was trying to get mares to board." Sir Ivor was "the horse that changed my life," she said, "and Keeneland feels he's the horse that changed the sales." She also paid tribute to the staff of Mill Ridge, and to her family, including her husband of 34 years, the South African-born veterinarian John Chandler. The gambler in her brought out the night's biggest laugh when she spoke of that long-lasting relationship: "I wished I'd covered all the bets that were down when we were married!"A scroll, presented to Chandler by TCA historian and director Edward L. Bowen, reads in part: "In recognition of her exemplary understanding and devotion to the ideals of sportsmanship, fair business practices, animal husbandry, and visionary leadership – in keeping with her family history – the Thoroughbred Club of America, assembled at Keeneland Race Course on this fifth day of November in the year 2005, hereby presents this testimonial scroll to Alice Headley Chandler and welcomes her as a honorary lifetime member."



Copyright © 2015 The Blood-Horse, Inc. All Rights Reserved.