A Sunday Drive
by Ray Paulick
Date Posted: 3/6/2001 9:24:15 AM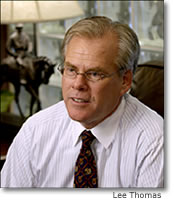 Ray Paulick
Editor in Chief


Some Western Hemisphere breeders worry about the heavy concentration of Northern Dancer and Mr. Prospector blood in the modern-day Thoroughbred. They're not alone in their concerns over a limited gene pool. A similar predicament is developing in Japan, where Sunday Silence reigns supreme. North America's 1989 Horse of the Year has been Japan's dominant sire since his first crop of foals hit the racetrack in 1994. His lifetime progeny earnings of $237 million from seven crops border on the unthinkable, and in less than a decade he has shattered many Japanese sire records. Sunday Silence, a son of the recently deceased Hail to Reason sire Halo, entered stud at Shadai Farm at the dawn of a new era, when some breeders began radically increasing the number of mares bred to popular stallions. Japanese breeders had a seemingly insatiable appetite for Sunday Silence, in direct contrast to American horsemen, whose indifference toward him led principal owner Arthur Hancock III to sell him to the late Zenya Yoshida. Breeders who were not able to book their mares to Sunday Silence began doing the next best thing once his sire prowess became clear: they bred to his sons, including Fuji Kiseki, a champion from his first crop. According to a recent report in the Japanese press, Sunday Silence was bred to 197 mares in 2000. Twenty-five of his sons were bred to 1,766 mares. The report estimates that 16% of Japan's 2001 foal crop will have Sunday Silence as sire or paternal grandsire. That doesn't account for the number of Sunday Silence mares being bred. That will narrow the gene pool further. Joji Yoshizawa, a Japanese pedigree expert, said one way to slow the Sunday Silence express is to begin exporting some of his best sons to stand in other parts of the world. Some have shuttled to Australia, but none yet stand in the Western Hemisphere. There probably is a certain amount of skepticism in the United States and Europe over how good a sire Sunday Silence really is. His dominance in Japan is well documented, but does his record there necessarily translate into success wherever his sons and daughters go? For the most part, Sunday Silence's reach has been limited to his adopted home, where the quality of racing is on the rise but remains questionable because of the restrictions the Japan Racing Association has had in place for many years. Western breeders might be amazed by the results of a Japanese grade II race on March 3, the Yayoi-sho, an important Triple Crown prep. Sons of Sunday Silence finished 1-2-3-4-5, led by Agnes Tachyon, who assumes the role of favorite for the Japanese classics. Agnes Tachyon is a full brother to last year's Japan Derby (Jpn-I) winner, Agnes Flight. But even if Sunday Silence colts sweep the top five spots in this year's Derby, it still would not be enough to convince many Western breeders to take a chance on sons or grandsons of Sunday Silence the same way they do with descendants of Northern Dancer or Mr. Prospector. That's why it may be necessary for Japanese horsemen to begin shipping more Sunday Silence runners to Europe and North America. Neil Drysdale, who trained last year's Kentucky Derby (gr. I) winner Fusaichi Pegasus for Japanese owners Fusao Sekiguchi and the Yoshida family, may get the first top-class Sunday Silence offspring. Fusaichi Zenon, a leading contender for the 2000 Japan Triple Crown before being sidelined with an injury, is being considered by Sekiguchi for an American campaign. The colt finished fifth recently in his return after an 11-month layoff. Drysdale said he has been approached but that no plans have been finalized. If Fusaichi Zenon can compete with our best horses and start a trend for Sunday Silence runners in this country, American breeders might finally accept the stallion they rejected a dozen years ago. And Japanese breeders will have an international market for what someday may be considered the world's best stallion.



Copyright © 2015 The Blood-Horse, Inc. All Rights Reserved.