Mandella Disappointed Rock Hard Ten is Out of Classic
Date Posted: 10/28/2005 10:40:35 AM
Last Updated: 10/29/2005 9:42:12 PM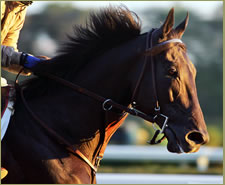 Rock Hard Ten on the track at Belmont earlier in the week.
Photo: Barbara D. Livingston

By Steve Haskin and
Ron Mitchell
Trainer Richard Mandella said he is disappointed that an injury will prevent Rock Hard Ten from running in the Breeders' Cup Classic – Powered by Dodge (gr. I), but that he is glad the injury was detected before the colt ran in Saturday's race.As first reported by bloodhorse.com, Mandella discovered blood in the frog of Rock Hard Ten's right front foot, after which the colt shed the frog. The problem was detected following a gallop Friday morning at Belmont Park.Mandella said there probably was a bruise underneath the frog that was festering, but the foot was never sore."The frog started to loosen last week and shed during the gallop," said Mandella."I'm very disappointed, but I've been training a long time, and once you get your senses about you, you're thankful it happened here and not on the track (during a race), when he could have broken a leg or gotten hurt badly," said Mandella. "He's been perfect all through the summer," said Mandella. "I said he hasn't had a bad day in three months and afterwards said, 'Why did I say that?'"The trainer described the frog as "the cushion between the two heels on the foot that is like a shock absorber. It's the first thing that meets the ground."Mandella, who said owners Ernie Moody of Mercedes Stable and Madeleine Pickens "great sports" about it, estimated the frog could re-grow and Rock Hard Ten could resume training in one to two weeks."It's fairly minor, just at a bad time," said Mandella. "It's very tender. We can't run him. We just soaked it and are doing it up in a medicinal poultice. "We will treat it with a solution of iodine tomorrow. He might miss a week or two of training." Winner of the Goodwood Breeders Cup Handicap (gr. II) Oct. 1, Rock Hard Ten had been treated for a bruise on his left front hoof before shipping to Belmont Park earlier this week. Mandella said that bruise had cleared up and that Rock Hard Ten had not missed any training.Other than the bruises, Mandella said the son of Kris S. is sound and that he hopes the owners will keep him in training next year.Rock Hard Ten won seven of 11 starts and earned $1,870,380. He had won all four starts since being transferred to Mandella in the fall of 2004.Since Rock Hard Ten had been assigned the 1 post, that position in the gate will remain open, rather than having the horses assigned posts 2 through 14 move in.Also, the Head-to-Head wager pitting Rock Hard Ten against Borrego has been cancelled.



Copyright © 2015 The Blood-Horse, Inc. All Rights Reserved.