Countdown to the Cup: And They're Off!
Updated: Friday, October 28, 2005 10:52 AM
Posted: Thursday, October 27, 2005 2:37 PM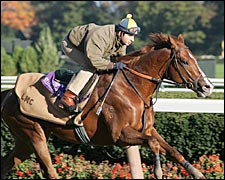 Photo: Barbara D. Livingston
Starcraft, may assume a stalking position in the Classic.
The battle lines have been drawn for the Breeders' Cup World Thoroughbred Championships and it is now time to plot strategy and assess the competition. And nowhere will that place with more intensity than in the Breeders' Cup Classic – Powered by Dodge (gr. I).For all the combatants who have been wondering how they are going to defeat the big three of Saint Liam, Rock Hard Ten, and Borrego, they at least have a ray of hope following the post position draw.With Rock Hard Ten drawing the rail in the 14-horse field and Saint Liam coming out of the 13 post, both colts, who like to stalk the pace, will have to break sharply for different reasons. A slow break for Rock Hard Ten likely will leave the big, long-striding colt engulfed by horses around that first turn and into the backstretch. Then, it would be up to jockey Gary Stevens to somehow get him out of all the clutter and into the clear, where he likes to use those humongous strides to intimidate his opposition and grind them into the ground. With so many horses in the field having a similar running style, there likely will a good deal of traffic to get through.Saint Liam, on the other hand, will have to break sharply to avoid losing too much ground early, which is something you don't want to do if you're going to have any kind of punch in the stretch. And Saint Liam still has not won going 1 1/4 miles, so he doesn't want to have to deal with ground loss in such a competitive field.One person who is happy to see Jerry Bailey breaking out of post 13 is Paul Makin, owner of the Australian/European titan Starcraft, who drew the 14-post. Knowing Bailey is as good a tactician as there is in America and one of the most intelligent riders of all time, Makin no doubt will tell his jockey, Pat Valenzuela, to follow Bailey and just sit off his tail. If it's good enough for Bailey, it's good enough for Starcraft.With all this jockeying going on, there will still be the questions: who will set the pace and fast will they go? Well, the second question is pretty obvious. The pace should be fairly moderate with the lack of a purse speed horse. As for who will be bold enough to take the field along on a merry chase, it would seem to be Flower Alley or Suave. Although trainer Todd Pletcher and jockey John Velazquez would probably prefer to sit just off the pace, as he did in the Travers (gr. I), they might not have a say in the matter if Flower Alley is as rank as he was in the Jockey Club Gold Cup (gr. I), taking on his own rabbit, and pulls as hard as he did in his most recent workout.Angel Cordero Jr., who exercises the colt, says he seems to be more settled the last few days and is relaxing better. But that doesn't mean anything until he gets his blood boiling in the heat of competition. Only then will we know if he will settle. If he doesn't, then Velazquez might have no choice but to put the colt on the lead and let him try to win it that way, even though that's not really his style. Pletcher said he may either take the blinkers off or cut them back. How that would affect him on the front end, no one really can tell. But on this colt's best day, he does have the speed and staying power to wire the field if that's the way the scenario unfolds. As for Suave, he is the one horse who is as comfortable on the lead as he is stalking. In fact, considering his past tendencies to back out of a fight when caught in tight quarters or stuck inside horses, he may even be prefer being out there winging on the lead, free of company. Although he has shown the ability to set the pace and be effective, he really hasn't demonstrated the speed to run his opponents dizzy, indicating that we're in for a moderate to slow pace regardless of who is in front.Suave is one of those horses who can be dangerous if ignored on the lead, as he likely will be, with everyone trying to get position, and Stevens and Bailey will be busy monitoring each other's situation. Don't look for either of them to go after Suave too early. But, Suave has shown he can fight back on the lead when challenged and should be respected.Sitting in the second tier, but fairly close up, should be Canadian invader A Bit O'Gold, Super Frolic, and Sun King, who it should be pointed out has scored several wire-to-wire victories. But those wins were when he simply outclassed his rivals. After that will be Perfect, Drift, Oratorio, Jack Sullivan, and Sir Shackleton, with Borrego and Choctaw Nation bringing up the rear.Borrego has shown what can happen when you use a long-striding horse the right way at Belmont. Once you get the engines going, it is best to just try to barrel over everyone with one felt swoop rather than sit and sit and let the others regroup. Go for the kill while they're vulnerable and not yet fully geared. No doubt, Borrego will try those same tactics if he can, with Choctaw Nation following right behind.So, that is what we have to look forward to in the Classic, which should be a chess game and extremely entertaining right from the start. Will Saint Liam and Rock Hard Ten get the trip they want? Will Starcraft and Oratorio take to the dirt? Will Borrego be able to inhale these horses the way he did his opponents in the Gold Cup? Will Perfect Drift finally get the perfect trip? Will Flower Alley rate or will Velazquez say, 'The heck with it' and send him? Or will Suave inherit the lead and try to outstay his rivals, with Edgar Prado hoping no one pays attention to him?Those are the questions that make this one of the most intriguing Classics in a long time. So, sit back and enjoy.As for some of the other races in which strategy and post positions should play a big part, Leroidesanimaux will have to get out of the gate quickly in the NetJets Mile (gr. IT) and just try to outrun everyone as he's done in his last eight races. And that's where the front-running filly Sand Springs may play a role. She not only likes the lead, she likes to get well clear right from the start. But even if she blasts to the front, Leroidesanimaux, assuming he breaks sharply, will be sitting just off her. After that it will be his favorite game of catch me if you can. That's where Artie Schiller comes in. He also has excellent tactical speed, combined with a lightning-quick turn of foot. A fast pace would help him in that it would keep him away from the lead and allow him to use his acceleration when it counts. He loves this course and will be a tough horse to handle in the final furlong. Last year's winner, Singletary, is as versatile a horse as there is in the race, and can beat you by sitting right behind or making one huge move as he did in the Oak Tree Breeders' Cup (gr. IT). The Europeans are not as strong as past years, and while Valixir, Whipper, and Majors Cast are classy horses, they will have to run the race of their lives, as Domedriver did in 2002. And finally, there are the two late-running American threats Funfair and Host, both of whom are coming off powerful off-the-pace victories.In the Emirates Airline Distaff (gr. I), Ashado drew post 3, right outside likely pacesetter Stellar Jayne, which should put her in a good position early, as long as someone doesn't get out there quickly and keep her pinned down on the inside. Watch out for Society Selection if she can use her rail post to save ground and wait for a seam to open at the five-sixteenths pole. In the Beldame, she got cooked by a premature wide move and was unable to sustain her run, finishing third, beaten three lengths. If she runs like she did in her second-place finishes in this year's Ruffian (gr. I) and last year's Beldame (gr. I), she will be tough.All the top horses drew well in the John Deere Turf (gr. IT), so it'll be Better Talk Now's pacesetter, Shake the Bank, busting out of there from the rail, and everyone else biding their time. No one will want to be the first one to go after Shake the Bank, so we could have a cat-and-mouse game among the jocks of top contenders Shakespeare, English Channel, Bago, Azamour, and Shirocco. Better Talk Now, who still gets little respect, will hope to run them all down in the final furlong, as he did last year.The only draw of note in the Emirates Airline Filly & Mare Turf (gr. IT) is Ouija Board's 13 post. Last year's winner will have that to overcome, while the other contenders are all drawn well.Finally, Lost in the Fog drew an ideal post in the TVG Sprint, coming out of the 7. The other true speed horse, Lifestyle, breaks outside of him in post 9, and could cause some commotion on the front end if he puts pressure on Lost in the Fog from the outside. But other than Lifestyle, and possibly the hard-knocking Battle Won, Silver Train, and Wildcat Heir, there really is no one to challenge Lost in the Fog, who, it must be remembered, has won from off the pace. Silver Train is dropping back from a front-running score in the mile Jerome (gr. II) and could pose a threat from just off the pace. This is a horse who ran six furlongs in 1:07 3/5 at Belmont this year. Imperialism and Gygistar, breaking from posts 10 and 11, respectively, will be launching late bids on the outside, with Taste of Paradise dropping out of it from the rail and looking for the same kind of holes he found in his Vosburgh (gr. I) victory. Lion Tamer, breaking from post 5, also will be coming late.
FREE! E-Newsletters from The Blood-Horse!...
Follow the top stories of major racing events, racing previews and results with FREE e-newsletters from bloodhorse.com. As news develops, we'll deliver updates to your inbox. Follow important events moment by moment, step by step!