Race-Day Security Barns in Effect for Breeders' Cup
by Amy Whitfield
Date Posted: 10/27/2005 7:29:44 AM
Last Updated: 10/28/2005 10:51:54 AM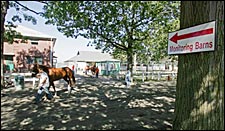 Signage at Belmont Park, indicating location of the race-day detention barns.
Photo: Barbara D. Livingston

For the first time in Breeders' Cup history, horses entered in all championship races will be required to pass through a race-day detention barn, keeping in step with security measures set up by the New York Racing Association earlier this year.All horses to race on Breeders' Cup day will be required to assemble in one of four race-day security barns on the Belmont Park backstretch at least six hours prior to their scheduled race, NYRA senior vice president Bill Nader said. Three barns will be used to accommodate Breeders' Cup contenders, while one barn will be used for horses entered in races one and two, the Emirates Airline Discovery Handicap (gr. III) and Emirates Airline Sport Page Handicap (gr. III).In a leading effort to address the growing public concern about the use of performance-enhancing drugs in sports, NYRA implemented the race-day security measures in May at the opening of Belmont's spring meet. In doing so, the Elmont, N.Y., venue became the first Thoroughbred racetrack to require every horse in every race to enter a security barn prior to competition. "We want to provide integrity and comfort to the highest level possible for all the participants and also for the pari-mutuel process," Nader said.Security personnel check horses into the security barn and monitor horses going in and out, Nader said. Private veterinarians are only allowed in for emergency situations, and a NYRA-employed veterinarian administers the bleeder medication Salix for approved horses. A trainer or owner must employ a groom or staff person to accompany each horse to the security barn.Requiring horses to be sent to a race-day detention barn was initially met by some complaints from horsemen who said it was inconvenient and costly. "Really, the majority of horsemen going into this situation knew what we were trying to accomplish," Nader said. "Some complained about the inconvenience, the additional labor, and things like that, but anytime there's change, there's going to be a little bit of resistance. Overall, I think it has been greeted with enthusiasm and understanding."In the case of the Breeders' Cup, there will be no exceptions for European horses that are quarantined upon arrival to the United States, Nader said. Those horses will also have to be taken to the security barns six hours prior to post time of their race.Nader estimated the security barn operation will cost NYRA an additional $500,000 a year, but said it is well worth the time and expense."We do almost $3 billion a year on our races and we give away approximately $120 million in purse money," Nader said. "Championships are won and lost at NYRA tracks and resumes are really built here, not only for champions but for horses that go on to be top stallions or tremendous broodmares. So we felt it was incumbent upon us to be an industry leader and pave the way."This is something that all racetracks should entertain moving forward. The perception--whether you believe it to be a problem or not--of a problem with performance-enhancing drugs in any major sport is not going away."
.



Copyright © 2015 The Blood-Horse, Inc. All Rights Reserved.