Henny Hughes Hopes to Turn Tables on First Samurai in Juvenile
by Deirdre B. Biles
Date Posted: 10/26/2005 2:23:37 PM
Last Updated: 10/27/2005 9:00:39 AM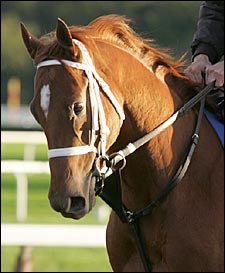 Breeders' Cup Juvenile contender Henny Hughes.
Photo: Barbara D. Livingston

So far, Darley Stable's Henny Hughes has been the best man to First Samurai's groom. But Henny Hughes' new trainer, Kiaran McLauglin, thinks it's possible to move his colt into the No. 1 spot in Saturday's Bessemer Trust Breeders' Cup Juvenile (gr. I)."Hopefully, it's not one of those years when people look back and say, 'Poor old Henny Hughes, he hooked First Samurai every time, just like Sham and Secretariat,' " McLaughlin said. "He (Henny Hughes ) is a very nice horse, a push-button horse. Maybe we'll get lucky and improve two or more lengths and change the result. He was very fit and ready to go when we got him. It's just been a matter of keeping him healthy and happy and sound."Henny Hughes, a son of

Hennessy

, won his first three races, including the Tremont Stakes and Saratoga Special (gr. II). Then he finished second to First Samurai in both the Hopeful (gr. I) and Champagne (gr. I) Stakes. In the latter, Henny Hughes set a suicidal pace, roaring through a half-mile in :43.67. Jockey Gary Stevens said afterward that he was just following trainer Patrick Biancone's orders. Sheikh Mohammed and his Darley staff took Henny Hughes from Biancone and gave him to McLaughlin.Some people suggested that Sheikh Mohammed and his brothers' apparent boycott of sale yearlings sired by Coolmore Stud stallions was behind the move because Biancone has close ties to Coolmore. But the Champagne's fast and furious pace was "the main reason why things happened," McLaughlin said.McLaughlin's strategy to beat favored First Samurai in the Juvenile primarily involves keeping Henny Hughes' speed under control early. Edgar Prado will be riding the colt for the first time."We should be able to slow him down," McLaughlin said. "He's not a keen horse at all. But he will be forwardly placed because he has speed. We're going to be going in :47 instead of :43, and we'll follow one or two horses if we need to. He could be on the lead – don't get me wrong – but he won't be asked."Henny Hughes will break from the No. 10 post, close to the far outside position that McLauglin had wanted."He might be a little more relaxed outside of horses, where he's able to see what's going on," McLaughlin said.In addition to a new racing strategy, a new rider, and a new trainer for the Juvenile, Henny Hughes will be running on the diuretic Salix (furosemide) for the first time."We scoped him after he galloped the first day or two we had him, and there was just a speck or two of blood, probably from the stress of traveling and racing," McLauglin said. "It wasn't a big deal. Hopefully, it (the medication) will make a difference, but First Samurai is first time Lasix (the former trade name of Salix), too, so it might not change a whole lot."



Copyright © 2015 The Blood-Horse, Inc. All Rights Reserved.