Notes and Quotes from the Breeders' Cup Draw
by Evan Hammonds
Date Posted: 10/26/2005 1:59:21 PM
Last Updated: 10/26/2005 10:47:49 PM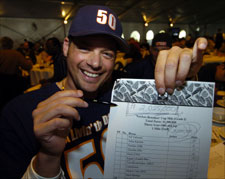 Trainer Don Chatlos beams at the post position of his defending BC Mile champion Singletary in Saturday's attempt to repeat.
Photo: Skip Dickstein

There was plenty of buzz Wednesday morning at the post position draw for the Breeders' Cup World Thoroughbred Championships schedulred for Saturday at Belmont Park.Here are some of the highlights:* In all, there will be 101 total starters and three of the races will have full fields: the Juvenile (gr. I), the Filly & Mare Turf (gr. IT), and the Classic (gr. I). * Total purses will be a record $15,755,000.* If all 101 horses start, it will be highest number of starters since the record 103 when the Breeders' Cup was run at Churchill Downs in 2000. The only other year there were more than 100 starters was in 1999, when 101 went to the posts at Gulfstream Park. * Jockey John Velazquez will be very busy as the only rider to have a mount in all eight World Thoroughbred Championship races. Jerry Bailey has a mount in seven races, and Gary Stevens has six mounts.* Along with the late scratches of Pomeroy (Sprint ) and Keeneland Kat (Juvenile Fillies), Juddmonte Farms' Three Valleys was scratched from the NetJets Mile (gr. IT), making for a field of 12. Trainer Bobby Frankel detected mucus and a cough after taking the 4-year-old homebred colt to the track for a gallop Wednesday morning. The expected soft turf due for Saturday was yet another factor in the trainer's decision.* Frankel's other entrant in the Mile, the 7-5 morning-line favorite Leroidesanimaux, landed an outside post, drawing 11. Limehouse will break from the outside. Leroidesanimaux has never started at Belmont Park and has not started further out than posts 6 in his starts in the U.S.* First Samurai was made the 8-5 morning line favorite for the Bessemer Trust Breeders' Cup Juvenile (gr. I) and will break from post 9 under Jerry Bailey. His archrival, Henny Hughes, will break just to his outside in post 10. Both horses will be racing on Salix for the first time."Being beside Henny Hughes is all right, but I would rather be on the outside," said trainer Frank Brothers of First Samurai. "In a perfect world, unless you've got a one-run horse, you want to be on the outside of the speed. It's a one-turn mile-and-a-sixteenth. They've got a long way to sort themselves out. He (First Samurai) is light on his feet for a big horse. It's a rider's race and (jockey) Jerry (Bailey) will have to make up his mind. All things being equal, he would be in a stalking position and go from there."In the Champagne, he bled slightly through the scope," Brothers said of adding Salix for the Juvenile. "I think it was advisable to place him on Lasix."* The shortest-priced favorite on the day may be Lost in the Fog in the TVG Sprint (gr. I). The Harry Aleo-owned, Greg Gilchrist-trained 3-year-old drew a nice, mid-pack post 7 for the 11-horse field. * Vosburgh Stakes (gr. I) winner Taste of Paradise drew the rail for the six-furlong Sprint, which shouldn't hinder his late-running style. The key to his success will be the pace, or lack thereof, up front."If you ask 10 people how much speed there is in this race, you'll get five guys that say there is a lot of speed and five guys that say no," said Taste of Paradise's trainer Gary Mandella. "I think most of the people that think there's a ton of speed are assuming there will be because of the history of this race. I think it's going to take the situation for somebody to 'send' for there to be that much pace."I'm counting on P Val (jockey Pat Valenzuela on 30-1 shot Attila's Storm) doing what he always does. I'm glad he has a horse in the race. He's notorious for sending out of the gate and attacking big favorites and riding them out of races. He does it everyday in California. If he rides the way he normally does, there'll be plenty of pace."* Repeat chances: There are four horses taking a shot at winning their second consecutive Breeders' Cup race. Ashado, gunning for a repeat in the Distaff (gr. I) broke from the rail last year at Lone Star Park. This year the 2-1 morning-line favorite will be break from post 3 in her attempt to top Azeri as the all-time North American leading earning female. Ouija Board, female grass champion and Filly & Mare Turf entrant will break from post 13 this year after breaking from post 5 last year. Mile winner Singletary won from post 10 last year and drew post 9 this year. Better Talk Now won the John Deere Turf (gr. IT) last year from post 5 and he drew post 4 for this year's 1 ½-mile repeat bid.
* "I would have liked to have been a little further outside, but I was glad that we were at least outside Stellar Jayne," said trainer Todd Pletcher about Ashado's draw. "You know we can start off in a good spot where we can see how it develops in the first part with her. I think she's every bit as good as she was going into it last year. She's gotten stronger. She is training every bit as well, if not better, than she did last year."* Singletary's trainer, Don Chatlos was happy with his post. "We wanted to be anywhere 6-10 and we are," he said. "We wanted to be in a place where he could break and be comfortable like he was last year. We just didn't want (jockey) David (Flores) coming out of the jocks' room having to think about what he would do if he found himself in trouble."* Trainer Bill Mott will send out the front-running 5-year-old mare Sand Springs in the Mile. She drew post 4. "I think the four hole is good for her. The most important thing is that she gets a clean break. She doesn't like you to bully her around. You're better off just letting her do her thing."* On the turf course, the Hall of Fame trainer said. "There is no way to know what the turf is going to be like. Sand Springs prefers good going. I don't think it has to be rock-hard for her, which it's not going to be."* On the turf and the weather in New York, NYRA president Charlie Hayward announced that turf races up until Saturday have been carded off the grass, including a pair of stakes run on Friday: the grade III Knickerbocker and the restricted Gaviola Stakes.The draw, hosted by Kenny Rice, was conducted by Andrew Byrnes, stakes coordinator for Belmont Park, and racing secretary P.J Campo.



Copyright © 2015 The Blood-Horse, Inc. All Rights Reserved.