Chance Breeders' Cup Purses Could Hit $20M in 2006
by Tom LaMarra
Date Posted: 10/26/2005 1:46:20 PM
Last Updated: 10/27/2005 6:42:19 PM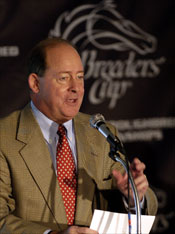 Van Clief: "If numbers are solid, I think we'd do it next year."
Photo: Skip Dickstein

A more than 40% increase in total purses for the Breeders' Cup World Thoroughbred Championships could be realized as early as 2006 if the board of directors of Breeders' Cup is satisfied revenue projections will be met.Breeders' Cup president D.G. Van Clief Jr., also commissioner of the National Thoroughbred Racing Association, said Oct. 26 the Breeders' Cup racing and nominations committee has discussed purse increases. When the plan was first announced, it appeared it could take several years, but Van Clief indicated a $6-million purse increase could be on a fast track.The eight Breeders' Cup races this year at Belmont Park are worth $14 million, though total purses after entries were taken came in at a record $15,755,000 because of entry and supplemental fees. Ideally, Breeders' Cup would like the base to be $20 million."We'll be talking about raising purses as early as next week," Van Clief said in reference to the Nov. 4 Breeders' Cup board of directors meeting. "The racing and medication committee met at Keeneland four weeks ago to discuss issues. A purse increase is one recommendation that could go to the board for discussion, but I'm not sure we're ready for action."We could be prepared to recommend moving the championship day purse structure to $20 million, and I think we'd like to see that happen as quickly as is fiscally responsible. If we do decide on a purse increase, we must be able to sustain it. We need to look at sources of revenue to make sure the numbers are solid, and if they are, I think we'd do it next year."Churchill Downs is slated to host the 2006 World Thoroughbred Championships.The Breeders' Cup Classic (gr. I) at one time was the richest race in the world. Though its purse is now $4 million, the Dubai World Cup (UAE-I) is worth $6 million, and two other stakes on the World Cup undercard will each be worth $5 million next year.On Oct. 23, Woodbine carded the Canadian International (Can-I), a 1 1/2-mile turf race with a purse of $2 million (Canadian), and the E.P. Taylor Stakes (Can-I), a turf stakes for fillies and mares with a $1-million (Canadian) purse. The Oct. 29 John Deere Breeders' Cup Turf (gr. IT) at 1 1/2 miles will go for $2,280,000, while the Emirates Airline Breeders' Cup Filly & Mare Turf (gr. IT) will be raced for $1,060,000.



Copyright © 2015 The Blood-Horse, Inc. All Rights Reserved.