Unbeaten Lost in the Fog Arrives for Breeders' Cup
by Dan Liebman
Date Posted: 10/23/2005 12:00:26 PM
Last Updated: 10/23/2005 2:52:42 PM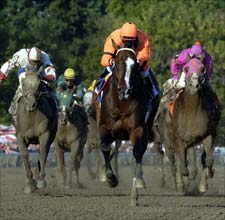 The King's Biship victory earned Lost in the Fog a ticket to the Breeders' Cup.
Photo: Skip Dickstein

The horse that more people are talking about than any other in the eight Breeders' Cup World Thoroughbred Championships races arrived safely at Belmont Park Saturday night.Lost in the Fog, the unbeaten favorite for the Oct. 29 TVG Breeders' Cup Sprint (gr. I), is getting more ink than the horses preparing to compete in the Breeders' Cup Classic – Powered by Dodge (gr. I)."Well, I hear that," trainer Greg Gilchrest said. "I think it's the old story of everybody has a dream in America. Most Americans can relate to him, they like his story. The like the underdog."Of course now, having won all 10 of his races, Lost in the Fog is not an underdog."Yeah, but for some reason he still has that underdog role even though he's the favorite," Gilchrest added.The son of

Lost Soldier

is in Kiaran McLaughlin's barn in the same stall he occupied when he came to Belmont in June for the Riva Ridge Breeders' Cup Handicap (gr. II).In that race, Gilchrest said, Harry Aleo's Lost in the Fog answered some big questions."You knew at some point he would really get challenged, that someone would look him in the eye," Gilchrest said. "He'd won very easily in every race before that. In the Riva Ridge, three horses made a run at him and he kept putting them away. He answered the heart question."Lost in the Fog won the Riva Ridge by 1 1/4 lengths, his smallest winning margin in his 10 starts. It also was the only time he has been ridden by someone other than Russell Baze, who was injured at the time. Edgar Prado substituted that day.Prior to the Riva Ridge, Gilchrest said he had no intention of running in the Breeders' Cup."I had no thought of that but then he won and things kept building. I thought if he won the King's Bishop (Aug. 27) we would have to start thinking Breeders' Cup."Gilchrest nearly won the Breeders' Cup Sprint in 1994 at Churchill Downs. He trained the filly Soviet problem for Harris Farms and Don Valpredo. Under Chris McCarron, she battled on the front end with Honor the Hero, disposed of him and then was collared by

Cherokee Run

, who came from off the pace and beat her a head in a thrilling stretch drive."I got the tape out last week and watched the race," Gilchrest said. "I hadn't watched it in 11 years. They went the first quarter in twenty-one and one."Lost in the Fog is just a 3-year-old, so he is still growing, even though Gilchrest said he doesn't see it. But others do."When Edgar worked him at Saratoga for me, he said Lost in the Fog had gotten bigger," Gilchrest said. "I hadn't noticed it but it seems others have."Seated nearby, Suzie Milne, a Calder-based exercise rider who gets on Lost in the Fog when he travels from his Northern California base, agreed. "I just saw him for the first time since Saratoga and he has grown," she said. "He's bigger and he's stronger.""He amazes me," Gilchrest said. "He just keeps showing up. He has such talent. Again, go back to the Riva Ridge. He had previously won just on talent. He won that race on talent and heart. He showed he has what the good ones have."Asked if there will be arguments about Horse of the Year should Lost in the Fog win Saturday, Gilchrest said, "I'd like to start some."The trainer has done his homework. At his hotel, he has the charts from the three Breeders' Cup Sprint races previously run at Belmont, which clearly show being on the lead, which is where Lost in the Fog likes to run, is a good thing.In 1990, Safely Kept and Dayjur were one-two the whole way; in 1995, Desert Stormer led the whole way and Mr. Greeley was second the entire six furlongs; and in 2001, though Squirtle Squirt was third early, he was less than two lengths from the lead and the two leaders, Xtra Heat and Caller One, finished second and third.



Copyright © 2015 The Blood-Horse, Inc. All Rights Reserved.