Maryland Horseman Joseph P. Pons Sr. Dead
Date Posted: 10/13/2005 10:56:43 AM
Last Updated: 10/14/2005 6:52:52 PM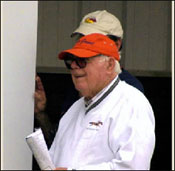 Joseph Pons, Sr.


Joseph P. Pons Sr., patriarch of Country Life Farm near Bel Air, Md., died Oct. 12 of a heart attack at his home at the farm. He was 83.Country Life, Maryland's oldest extant commercial Thoroughbred farm, was founded in 1933 by Pons' father, Adolphe Pons. Following his death in 1951, Pons and his brother, John, took charge of the operation.Among the famous horses associated with Country Life are champions Cigar and Carry Back and the latter's sire, Saggy. Cigar, a Horse of the Year in 1995-96, was foaled at the farm, and Carry Back, champion 3-year-old colt in 1961, was conceived there. Saggy, who had gained earlier fame as the only horse to beat the great Citation as a 3-year-old, stood at Country Life.The Country Life operation went through a downturn in the 1970s, and it largely was due to Pons' bout with alcoholism, a problem he later freely admitted. He overcame it and counseled others on how to do the same.In recent years, Country Life was home to such stallions as Allen's Prospect, a leader by number of annual winners, and Malibu Moon , sire of 2004 champion 2-year-old male Declan's Moon. Malibu Moon now stands at Castleton Lyons near Lexington.Pons remained active in racing and the farm's operation until his death. He annually hosted a Preakness party at the farm two days before the great Maryland event.Pons is survived by his wife of 55 years, Mary Jo, along with sons Andrew, Joseph "Josh" Jr., and Michael, and daughters Alice and Norah. Josh and Michael are involved in the Country Life operation and the family's Merryland Farm. John Pons died in 1996.Josh, who earned two Eclipse Awards in his role as a writer at The Blood-Horse, keeps readers abreast of life on the farm with his "Merryland: A Diary by Josh Pons."A memorial gathering for Pons, who donated his body to the Maryland Anatomy Board, will be held from 3 p.m. to 8 p.m. Oct. 17 at Country Life Farm on Old Joppa Road. Contributions can be made to the Radio Reading Network, 2901 Liberty Heights Avenue, Baltimore, Md. 21215.



Copyright © 2015 The Blood-Horse, Inc. All Rights Reserved.