Hurleys Donate Songandaprayer Season to Hurricane Relief
Date Posted: 10/11/2005 1:25:56 PM
Last Updated: 10/12/2005 5:41:43 PM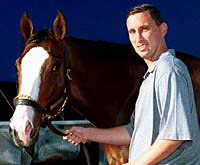 Basketball star and Thoroughbred owner Bobby Hurley with Songandaprayer in 2001.
Photo: Equi-Photo/Bill Denver

(edited press release)
Bobby and Leslie Hurley, in conjunction with Jack Goldthorpe of the Lexington-based Waterville Insurance & Bloodstock Services, announced Oct. 11 they have donated a Songandaprayer season to Habitat for Humanity to aid the Gulf Coast hurricane relief."Bobby and Leslie were quite moved by the hurricane devastation and came up with this unique way to help," said Goldthorpe, "Horsemen can give to a great cause while also having a chance to breed to Songandaprayer and who knows what that will be worth come February."Those persons mailing a charitable, tax deductible contribution of $500 to Lexington Habitat for Humanity will be eligible for a special raffle where the winner will receive a 2006 guaranteed live foal season to Songandaprayer, North America's leading freshman sire for 12 consecutive weeks. Checks should be made payable and mailed to Lexington Habitat for Humanity, Attn: Grant Eaton Phelps, 1260 Industry Road, Lexington, Ky., 40505, and must be received no later than Nov. 10. All proceeds from the sale of the raffle tickets are for the benefit of Lexington Habitat for Humanity and Operation Home Delivery. On Nov.11, a 'Habitat' representative will draw the winner. Ads with raffle entry forms will appear in upcoming issues of Thoroughbred trade publications.Songandaprayer stands at Walmac Farm near Lexington as the property of a syndicate that includes Hurley, a former Duke University basketball star.The Hurleys would like to thank the following for their contributions to this cause: Waterville Insurance & Bloodstock Services; Walmac Farm; Stacy C. Kula Esq., at McBrayer, McGinnis, Leslie and Kirkland; Saybrook Advertising; Daily Racing Form; The Blood-Horse; and Thoroughbred Times.



Copyright © 2015 The Blood-Horse, Inc. All Rights Reserved.