On Track
by Ray Paulick
Date Posted: 10/11/2005 9:27:17 AM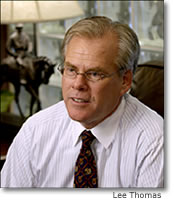 Ray Paulick
Editor-in-Chief


So far, so good. That's the early report card on Polytrack, the all-weather surface that was tested under American racing conditions for the first time at the recently concluded Turfway Park meeting in Northern Kentucky. The only information available on Polytrack's impact on horse safety is anecdotal. Turfway president Robert Elliston said the number of horses that did not finish a race dropped from 21 during the 2004 meeting to 10 in 2005. Three of those 10 were documented as injuries, with the balance due to equipment failure, bolting, or other factors. Even more encouraging was the fact no horses were said to have been vanned off because of injuries during training hours. "Horsemen and jockeys alike have told us how pleased they have been with the fairness of the racing surface," Elliston said. "Regardless of running style, participants were consistent in their belief that their horses were not compromised by how the track was playing." Turfway appears to be an ideal testing ground for Polytrack, a joint venture of the track's co-owner, Keeneland Association, and Martin Collins, who pioneered the surface in his native England 15 years ago. Weather conditions can range from 90 degrees and dry, to sub-freezing temperatures and snow, to warm and wet. The track's annual winter-spring race meeting (which typically runs from late November through early April) has often been plagued by weather-related cancellations caused by extreme temperature fluctuations that turned a hard, frozen track into a gooey, unsafe bog. The track was frequently subject to extreme biases, depending on the conditions, that either favored inside speed horses or come-from-behind runners starting from an outside post. Polytrack is designed to overcome both safety and consistency problems presented by each set of unique weather conditions. The new surface would have benefited from additional rain during Turfway's meeting. Collins admitted this installation was designed for wetter weather, based on the amount of wax coating applied to the polypropylene fibers, recycled rubber, and silica sand that comprise the material. As a result, there was more "kickback"--a fine mist of Polytrack caused by the digging hooves of horses--than anticipated. Some jockeys complained that breathing the kickback caused them respiratory problems. If the positive reviews of Polytrack continue (and they have been almost universally favorable to date), Keeneland officials may decide to install it on the Lexington track's racing surface. (It already has a Polytrack training track.) Track management at Del Mar in Southern California is also seriously considering Polytrack. So are the new owners of Hollywood Park, though they appear to be using Polytrack as a negotiating chip with the Thoroughbred Owners of California to help secure the racing dates they want over the next three years. Published reports indicate Polytrack would cost upwards of $5 million at Hollywood Park. The racing surface has performed well at two tracks in England, where dirt racing is secondary to grass racing. Early reports from Turfway suggest turf horses adapt to Polytrack better than they adapt to a traditional dirt course. If that is true, racing on Polytrack will create opportunities for a large number of horses. It's probably too soon for others to jump on the Polytrack bandwagon. Let's not forget how major league baseball and professional football were infatuated with AstroTurf in the 1960s and '70s. Natural sod was ripped out of numerous ballparks and stadiums in favor of the artificial grass surface, and nearly every new stadium in that era installed AstroTurf. Most stadiums have gone back to natural surfaces. Polytrack could be the wave of the future. But let's give it some time.



Copyright © 2015 The Blood-Horse, Inc. All Rights Reserved.