Top New York Legislator Calls for New Operator of NYRA
by Tom Precious
Date Posted: 10/6/2005 1:02:43 PM
Last Updated: 10/7/2005 5:54:34 PM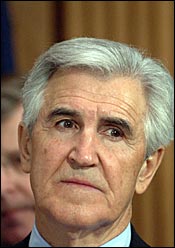 New York Senate Majority Leader Joseph Bruno, calls for new operator of NYRA.
Photo: AP/Jim McKnight

The franchise now held by the embattled New York Racing Association, which is facing insolvency by the end of November, should be awarded to a new operator within six months, New York Senate Majority Leader Joseph Bruno said Thursday. Bruno, a onetime top ally of NYRA in Albany, also held out the possibility that the state of New York might consider taking control of NYRA and having it be run by a new NYRA oversight board that was created this spring. The NYRA franchise is not due to expire until December 31, 2007. "Every week the news goes from bad to worse regarding NYRA and it's stewardship of the racing industry in New York State,'' Bruno said. "NYRA's financial problems have raised very serious concerns about the organization and we need to move forward as soon as possible with selection process to find a new franchise to avoid jeopardizing the future of racing in New York.'' The legislature's top Republican said a new law enacted this year, while speeding up the franchise bidding process by six months, failed to set an exact deadline for the bidding work to begin. He said requests for proposals should be issued for the franchise within 60 days. "We need to move forward with a gallop, not a trot to make positive changes for the benefit of the horse racing industry in New York State,'' Bruno said in a written statement Thursday. The surprising call by Bruno comes two days after NYRA President Charles Hayward told a state oversight panel that NYRA needs to be able to take a number of fiscal steps quickly if it is to avoid running out of money by the third week of November. The insolvency threat came as Hayward was pitching a plan to the state to let NYRA sell off 80 parcels of land not used for racing at Aqueduct as a way to raise much-needed cash. NYRA officials insist they have the legal authority to sell the land. But Carole Stone, chairwoman of the new NYRA oversight board, and a lawyer for the state Racing and Wagering Board both disputed NYRA's contention. The state has insisted it owns the land upon which NYRA's racetracks sit. Bruno noted that the state racing and wagering board has the legal authority to revoke NYRA's franchise before its scheduled expiration. "The oversight board should work with NYRA to develop a business plan to help keep them afloat in the short term and help avoid jeopardizing future racing events in New York," Bruno said. "The current NYRA management is doing the best they can with the problems they inherited, but they understand they need new opportunities and a new structure. However, if NYRA's problems continue, then we should consider the possibility of a takeover by the racing oversight board." Bennett Liebman, director of the Racing and Gaming Law program at Albany Law School, said the state does have the power to move against NYRA. The state Racing and Wagering Board, which regulates gambling ventures in the state, could revoke its franchise. The new NYRA oversight board could theoretically foreclose on NYRA. The new panel took over the powers of the former Thoroughbred Capital Investment Fund, to which NYRA owes tens of millions of dollars. The CIF agency, Liebman said, has held a mortgage on Aqueduct, making it possible for the oversight board, created just this year, to foreclose on the property. With Belmont unable to accommodate winter racing, "Basically, NYRA would have no place to race,'' he said. Liebman said the call by Bruno has potential serious ramifications for NYRA. Bruno in the past has staunchly defended NYRA's interests at the state Capitol. In 1997 he pushed through NYRA's current franchise arrangement. But Bruno in the past year or so has – off and on – joined the critics of NYRA during the racing group's many legal and financial problems. NYRA just came out of an 18-month oversight period by a monitor appointed by a federal judge as part of a plea deal for its role in a fraud case involving former parimutuel clerks. State officials have identified numerous financial and management problems at NYRA. "Just the fact that Senator Bruno is speaking out on this issue means that it has serious potential,'' Liebman said. Bruno, a Republican whose district includes Saratoga, also criticized Assembly Speaker Sheldon Silver, D-Manhattan, for failing to so far make his one appointment to the NYRA oversight board, which has already held two meetings to discuss NYRA's operations. Racing industry insiders have speculated that Democrats in Albany may want to slow down the NYRA franchise bidding process until after next year's gubernatorial election. A Democrat, current Attorney General Eliot Spitzer, is leading in polls to replace the outgoing governor, George Pataki. NYRA's Hayward this week depicted the fiscal picture as so grave that NYRA is considering selling paintings – NYRA has possibly hundreds of equine paintings given it to by horse owners and allies over the years – to help it meet operating expenses. "The franchise is in jeopardy,'' he told the oversight panel on Tuesday. He said NYRA is also exploring cutting employee and retiree health benefits. Hayward also raised the possibility of cutting purses and race dates, though he later said no concrete plans for that are underway. NYRA officials said they need to raise between $15 million to $20 million from the Aqueduct land sale to avoid a financial meltdown.While Bruno's call could lead to NYRA's early demise, one state racing official insisted he welcomed the concerns raised. "We're pleased that Senator Bruno acknowledged the system is broken and appreciate his call for action,'' said NYRA vice president Bill Nader. He called Bruno "a great advocate for racing.''

But Nader said that another entity taking over for the NYRA in six months under the same business environment "is similar to Einstein's definition of insanity – you're going to do the same thing over and over and over again and expect a different result.''

Nader said unless there is a dramatic change in the NYRA business model, created in 1955 before the introduction of OTBs, lotteries and casinos in neighboring states, "There's no real chance to succeed.''

Nader acknowledged it would take a "minor miracle'' to make the necessary changes in the next six months. "His immediate call to action is, at least, refreshing,'' Nader said of Bruno. "Someone in a high-ranking position who has the knowledge of the industry is willing to step up and address the fact that the model needs to be improved.''



Copyright © 2015 The Blood-Horse, Inc. All Rights Reserved.