Afleet Alex Turns in 'Amazing' Work; Pointing for Classic
by Steve Haskin
Date Posted: 9/30/2005 12:19:36 PM
Last Updated: 10/3/2005 9:46:45 AM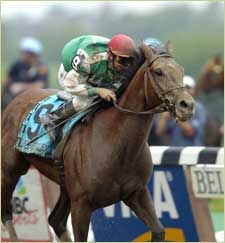 Afleet Alex back on track for BC Classic.
Photo: Skip Dickstein

Cash is King Stable's Afleet Alex, who had not worked since his surgery for a hairline fracture, added to his growing list of amazing feats when he drilled five furlongs in a bullet :59 4/5 Friday morning, closing his final eighth in :11 2/5. Trainer Tim Ritchey said afterward the Breeders' Cup Classic – Powered by Dodge (gr. I) is very much in the picture.The work was the fastest of eight at the distance. "It didn't amaze me how fast he worked, because he did it easy, and he always works like that," Ritchey said. "What really amazed me was when he pulled up on the backside, and I walked and jogged back with him on the pony, and he wasn't even blowing. When you breeze them, you need to put air into them, but he wasn't even taking a deep breath. It was astounding."He actually got stronger. He went in :24 3/5, :48 2/5, and :59 4/5, and Jeremy (jockey Jeremy Rose) basically stood up on him after that, and he still galloped out six furlongs in 1:13 2/5. Jeremy said if they had clocked him, he probably would gone seven-eighths in 1:27 and change. He's that much of an athlete. He is an amazing horse."Ritchey said he was never concerned about fitness. "This horse has had tons and ton of slow miles underneath him," he said. "He hasn't put any fat on him and has maintained all his muscle tone. As much criticism as there has been of his training regimen, I just think it's helped. Even when he was only allowed to jog he jogged three miles a day -- a mile and a half early and a mile and a half late. Two weeks ago, he was allowed to start to gallop, and he's been out twice a day almost every day up until yesterday when I backed up a little to freshen him for his work. Last Sunday, he galloped three miles and was stronger the last mile than he was the first two. He's got a great lung capacity."Ritchey said Alex cooled out beautifully afterward and only drank a half a bucket of water. He scoped perfectly clean, and Ritchey now feels he is ahead of schedule."It puts me even further ahead than what I had anticipated," he said. "I told Jeremy he'll work well, and he said, 'Are you sure?' " I told him not to worry about it, just start out easy and let him pick it up a half, and then as long as he feels good to you, just grab his head and shake the reins a little bit. When Jeremy came back, he said, 'Man you were right, he hasn't lost a jump. He feels tremendous.'"Ritchey said Afleet Alex will work again sometime next week. "I could probably run him three-quarters off of that, and get a prep that way" he said. "But I'd rather get one more work into him and try and find a race on the weekend of the 15th, either in the (about seven-furlong) Perryville (gr. III) at Keeneland (on Oct. 14) or there's a grass race at the Meadowlands (the 1 1/16-mile Cliff Hanger, gr. III on Oct. 14). There are two or three little spots around, and he needs to get a good prep in him. He gets a lot out of his works, obviously, but to go a mile and a quarter we have to make sure he's going to be good and tight. I don't want a tough race for him, just kind of a building race. The Classic is more on my mind now after watching him work the way he did."



Copyright © 2015 The Blood-Horse, Inc. All Rights Reserved.