KEEP Supports Casinos at Licensed Racetracks
by Tom LaMarra
Date Posted: 9/16/2005 1:40:39 PM
Last Updated: 9/17/2005 6:30:11 PM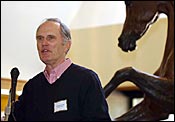 KEEP chairman Brereton C. Jones.
Photo: Anne M. Eberhardt

The Kentucky Equine Education Project announced its support Sept. 16 for a referendum to amend the state constitution to allow for casino gambling at licensed racetracks. But details of the plan won't be in the form of legislation until Jan. 1, 2006, and officials admitted the final document will be subject to revision.The KEEP board of directors unanimously adopted the position at a Sept. 7 meeting. The organization now has more than three months to line up support, and also plans an awareness campaign beginning in early November.KEEP, a multi-breed grassroots organization formed to educate the public and legislators on the importance of the horse industry to the state's economy, wants any legislation to earmark "significant and quantified gaming tax revenues for education, health care, local development funding, and preserving the environment," executive director Jim Navolio said during a press conference on the lower steps of the state Capitol in Frankfort. He said KEEP's position on expanded gambling is based on three guiding principles: It must be good for Kentucky, it must be good for the horse industry, and it must take a "non-proliferation stance" on gambling.When asked about specifics such as revenue splits, the number of racetrack casinos, and whether non-track locations would be in the mix as the legislative process moves forward, Navolio said: "The actual details of the plan are still to be worked out, and they will be announced when finalized, (but) we do not want to see Kentucky become another Las Vegas."Some Kentucky legislators support non-track casinos, particularly in cities in the western and southern portions of the state.Currently, Kentucky has eight licensed tracks. The Thoroughbred tracks are Churchill Downs, Keeneland, Ellis Park, Kentucky Downs, and Turfway Park. The Standardbred tracks are Bluegrass Downs, The Red Mile, and Thunder Ridge.KEEP officials wouldn't say which tracks would have casinos, or whether licensees would work together in certain markets. The position statement also doesn't say casino gambling should be limited to tracks that currently hold licenses; Navolio said the awarding of licenses is up to the Kentucky Horse Racing Authority."Our statement is strong on the non-proliferation of gambling," Navolio said. "Is this going to make it through the legislature in the form presented? That's highly unlikely.""I don't think any of us believe a specific piece of legislation will address (all of our) issues," Turfway president Bob Elliston said.Without splits, revenue projections are difficult, though Navolio said racetrack casino gambling could produce $400 million to $450 million a year for the state.In failed racetrack gaming legislation from 2004, purses would have received no less than 12% of adjusted gross revenue. Marty Maline, executive director of the Kentucky Horsemen's Benevolent and Protective Association, said the splits remain to be seen but that his board "would not agree to go below that amount" when the 2004 legislation was written.Maline also said horsemen support the concept of having some dedicated revenue for shipping and stabling given the way Kentucky horsemen must travel from track to track throughout the year.Kent Ostrander, executive director of The Family Foundation of Kentucky, attended the KEEP press conference and offered his organization's opposition, not to the horse industry but to expanded gambling.He used as an example West Virginia, where racetracks have video lottery terminals. "What you find there is nobody is watching the races," Ostrander said. "I think the horse industry is looking at a bleak future. Three decades from now, there will not be a horse industry in Kentucky."We are for the horse industry, but this is just the wrong way to go. We don't have the money but we have principles on our side."KEEP chairman Brereton Jones listened to Ostrander as he spoke to the press and later said Ostrander's position is an example of why KEEP wants voters statewide to decide if they want casino gambling. He said the constitutional amendment route would eliminate proliferation.The constitutional amendment route if approved by the legislature has the potential to create a spending free-for-all between supporters of racetrack gaming and its opponents, some of which could be other casino companies seeking to protect interests in neighboring Indiana and Illinois.Churchill Downs president Steve Sexton said his company supports a constitutional amendment. Keeneland president Nick Nicholson said he was unable to attend because of the September yearling sale, but in a statement read by Navolio said Keeneland supports the KEEP position.Others with direct ties to racing that attended the press conference were Judy Taylor, the Keeneland lobbyist; Joe Costa, president of The Red Mile; Bob Stewart, president of the Kentucky Harness Horsemen's Association, and Bill Landes, president of the Kentucky Thoroughbred Association.Quarter Horse interests also were represented. Quarter Horses compete on a limited basis at The Red Mile, and a Louisville-based group has approached the KHRA about building a Quarter Horse and Standardbred track in southeast Kentucky near the Tennessee border.



Copyright © 2015 The Blood-Horse, Inc. All Rights Reserved.