Too Much of a Good Thing? Keeneland Sale Opens with Quality <i>and</i> Quantity
by Deirdre B. Biles
Date Posted: 9/11/2005 4:35:19 PM
Last Updated: 9/14/2005 10:58:10 AM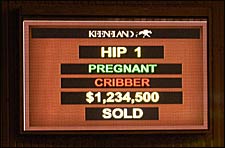 New Keeneland tote board unveiled as September sale begins.
Photo: Anne M. Eberhardt

Will the Keeneland September yearling sale, which starts Monday in Lexington, give the Thoroughbred marketplace too much of a good thing? Even though many buyers were praising the quality of the horses, some consignors were worried that the supply might exceed the demand – even in the two select sessions that open the auction.The number of yearlings in Keeneland's catalogue is at a record high of 5,110. But buyer enthusiasm for a lot of product could be dampened by a variety of factors, including uncertainty about racing in California and Maryland, the ripple effects on the economy from Hurricane Katrina's devastation, the declines in business at earlier yearling sales with big catalogues, and the slowdown in this year's market for 2-year-olds in training.Consignors with select horses got a boost in confidence with the news that three of Dubai's Maktoum brothers will be attending the September auction. Sheikh Mohammed and Sheikh Hamdan will be joined by Sheikh Maktoum al Maktoum, who has not been in Kentucky since the early 1990s. They arrived in two huge jets over the weekend.Still, consignor Duncan Taylor, of Taylor Made Sales, wasn't sure there would be enough buyers for his top yearlings."I think there's great horses here, and there ought to be great prices," he said. "But I don't know if the market is ready for that many horses of this caliber. For a buyer, it's a smorgasbord of genetics. There are all kinds of wonderful horses available."At the Viking Stud consignment, Pam Littrell was optimistic but predicted that buyers would be at an advantage."The top end is going to be good," she said. "But you're going to have to have nice, clean horses, or they're not going to buy them. They don't have to because there is such a great supply."Headley Bell, of Nicoma Bloodstock, agreed. "There's plenty of product, and the market is going to be very selective," he predicted. "I think sellers have to know their horses, and they better have them placed in the right spots."The Keeneland auction, which will run through Sept. 26, will have 14 sessions. There will be a break from selling this Friday, Sept. 16. All sessions begin at 10 a.m. (EST).Last year's September yearling sale was the world's highest-grossing Thoroughbred auction ever. In addition, September records were established for number of horses sold, average price, median price, and highest-priced horse. The select sessions also generated a number of all-time highs. Here's what some other people had to say about the prospects for this year's Keeneland September sale:Craig Bandoroff, Denali Stud: "Demi (O'Byrne) has been to the farm; (John) Ferguson has been to the farm. Here comes Ferguson now. At the top of the market, a lot depends on what those guys do. I don't know if it (the devastation caused by Hurricane Katrina and its ripple effects) hurts, but it can't help. Historically, when oil prices have been good, the horse business has been good, so I think there are some positives."John Moynihan, a Kentucky bloodstock agent who represents such well-known clients Jess Jackson and Robert and Beverly Lewis: "I've found nice horses. Everything's been nice so far. Let's keep our fingers crossed. We've got a lot of work over the next 14 days or however long it is."Bill Farish, Lane's End: "I'm very optimistic. I think everybody is a little worried about the tail end, but sales have been pretty strong everywhere else, and I don't see why that wouldn't continue."Arthur B. Hancock III, Stone Farm: "We have a lot of horses for who knows how many buyers. I just hope there's enough buyers. We'll just have to wait and see."Tom VanMeter, Eaton Sales: "It's going to be good the first four days. Everybody's been holding back. I think most of the good horses are here. The market won't be down. Why would it? I have no reason for it to be. Our draft in book two is awesome."Dr. Steve Carr, Centennial Farms: "There's a lot of nice horses here, and there are a lot of buyers here. I think the foreign buyers will be as strong as ever, and I think the Americans will be, too. I think it will be a very strong sale. The horses are as strong as or better than last year."Michael Hernon, Gainesway: "The September select sessions have taken over the spot of the July sale. You have the top pedigrees, and consignors who have horses with the conformation and the vet report to go with it will be rewarded. There's strong demand for the high quality product. I think you're going to see increased aggressive bidding on those horses. In the big picture, there is a record number of horses to sell, and there is some concern about the depth of the market. At the Fasig-Tipton July sale, we saw a bigger catalogue and a slide in the average and the median."



Copyright © 2015 The Blood-Horse, Inc. All Rights Reserved.