Relief Effort Continues at Kentucky Horse Park
Date Posted: 9/8/2005 7:08:36 PM
Last Updated: 9/9/2005 6:59:19 PM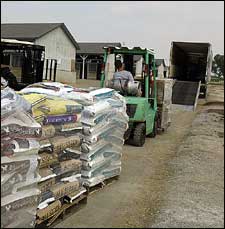 Supplies are loaded into a trailer at the Kentucky Horse Park Thursday as part of a Katrina relief effort.
Photo: Anne M. Eberhardt

Individuals and businesses in the Central Kentucky region have until 7 p.m. Friday to donate urgently needed supplies to the National Horse Center at the Kentucky Horse Park for horses and horse industry people affected by Hurricane Katrina.The National Horse Center, comprised of more than 20 national and regional organizations, has set up a collection staging area at Barn 21 at the Kentucky Horse Park, located on Iron Works Pike at I-75 near Lexington. Their hours for collection are 7 a.m.-7 p.m. Thursday and Friday.Laura Plato, a staff member for the National Horsemen's Benevolent and Protective Association that spearheaded the relief effort in conjunction with the United States Equestrian Federation, said one truckload of supplies will be sent to Louisiana Downs and two will go to Hattiesburg, Miss., where the USEF has established an equine rescue center. The truck bound for Louisiana Downs will carry supplies for horses and horse industry workers displaced by the storm. The other trucks will be limited to horse supplies. Lexington Cartage, owned by the Young family that owns and operates Overbrook Farm, has donated the trucks, drivers, and fuel.Some needs have been met. Lee Hall of Farmers Feed Mill donated significant amounts of feed. Blue Horse Charities contributed feed and veterinary supplies. Some area farms, including Adena Springs, Overbrook, Three Chimneys, and WinStar, sent various supplies. Volunteers from the Arabian Horse Association in Ohio donated $500 in shavings. "We've got plenty of halters and leg wraps," Plato said, "but we still need bagged shavings, EZ Boots, Vetrap, ointments, hydrogen peroxide, iodine, and other over-the-counter veterinary supplies."Plato said arrangements were being made through Southern States Cooperative to have hay sent from Tennessee or Georgia.Riding tack was needed by some exercise riders who lost their supplies in the storm and subsequent flooding, according to Plato. Other items needed for horse industry people relocated to Louisiana Downs include food, shampoo, soap, and laundry detergent.



Copyright © 2014 The Blood-Horse, Inc. All Rights Reserved.