Land For Adena Springs Purchased Near Paris
by Dan Liebman
Date Posted: 9/7/2005 10:48:19 AM
Last Updated: 9/7/2005 10:52:54 AM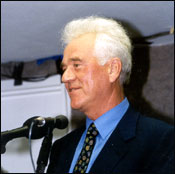 Eclipse Award winning breeder Frank Stronach has purchased more property in central Kentucky.
Photo: Anne M. Eberhardt

A parcel of land in Bourbon County, Ky., bought by Frank Stronach's son, Andy, could be the first of many tracts purchased there and lead to the eventual relocation of the entire Adena Springs Kentucky operation.Andy Stronach, in the name Triple Bell Holdings, bought 1,047 acres in a deal that closed Aug. 31. The former cattle and crop farm on Cane Ridge Road and Jackstown Pike northeast of Paris, Ky., was purchased from Gene and Larry Barber for $5,236,550.The current Adena Springs Kentucky operation is based in Woodford County, Ky. On Aug. 19, a previously announced sale of a portion of Adena Springs Kentucky closed. That 641-acre property near Versailles, Ky., was purchased for $14.5 million by Jess Jackson and will become part of his Stonestreet Farm."We're still tossing around ideas," Dan Hall, manager of Adena Springs Kentucky, said. "We're looking for more land (in Bourbon County). We're looking to put together a large parcel of land. We have talked about moving everything (to Bourbon County)."Though Adena sold Jackson its farm on U.S. 60 (commonly called Versailles Road), it still owns more than 1,200 acres in Woodford County. The stallion complex is part of a 715-acre tract nearer Midway and Frankfort, Ky., and another 500 acres is owned across Old Frankfort Pike.Jackson has already moved some horses on to the Versailles Road property, Hall said. "We've given up one barn, must give up another in September, and must have everything off the farm by mid-November," he said.Adena is in the process of shipping its young horses to its Florida farm. "Our process has been that when they are weaned, they go to Florida," he said. "We are in the process of shipping them there now."Hall said about 300 mares owned by Stronach are presently in Kentucky. Many will be sent to the other Woodford County property, some could be sent to Florida, and others will be sold in November at Adena's annual broodmare sale at Fasig-Tipton Kentucky.The new Adena Springs South near Williston, Fla., is about 5,000 acres. Stronach sold Jackson his former Florida property near Ocala. Stronach also owns a farm in Canada."The farm on Versailles Road is the first we bought and developed ourselves and we've raised a lot of good horses here," Hall said, "but the property in Bourbon County is a beautiful piece of land and it will be a very nice place as well."Already, Hall said, work has begun on the pastures at the new Kentucky property.Jackson's purchase of the Versailles Road farm brings his Central Kentucky land holdings to 1,110 acres. He purchased the former Buckram Oak Farm earlier this year. He paid $17.46 million for 469 acres on Old Frankfort Pike.Jackson and Stronach have also been involved in several horse deals. Jackson purchased an interest in Ghostzapper and his sire, Awesome Again , from Stronach.



Copyright © 2015 The Blood-Horse, Inc. All Rights Reserved.